Not sure how to use tofu for breakfast? As a nutritionist, let me help you by sharing a few tried and tested vegan breakfast ideas with tofu. 
Originated in China, tofu is gaining popularity throughout the world for its nutritional value. These vegan tofu breakfast recipes will give you ideas to make it a part of the morning.
19 Must-Try Vegan Breakfast Ideas With Tofu 
Tofu is made of soy milk and it is also known as bean curd. It is an excellent plant based protein source, especially for vegans.  
Give your morning a nutrient dense start with these vegan tofu breakfast ideas:
1.
Tofu Scramble Bowl: Replace Your Conventional Breakfast to This Scrumptious Tofu Breakfast Bowl
This savory breakfast recipe is a combination of three hearty and healthy vegan foods. Heat up the oil and add potatoes as they will take time to cook. Once softened, add onion, bell pepper, garlic and saute for 3-4 minutes. Now add tofu and crumble it in the pan.
Add black salt, cumin powder, pepper, curry powder and in the last kale. Saute for another few minutes and you are good to go. Enjoy your tofu breakfast bowl just straight or with rice.
2.
Sesame Garlic Tofu: A Flavorful and Delectable Asian Tofu Breakfast 
Tofu is like a blank slate and it can soak up any flavor effortlessly. For this recipe you will need extra firm tofu. Press tofu to squeeze all the water. Then coat in cornstarch and stir fry in a heavy bottom skillet with sesame oil. 
While it's getting crisp prepare the sauce with soy sauce, maple syrup or brown sugar, garlic paste, rice vinegar and water. Pour the sauce over it and sprinkle roasted sesame seeds before serving. 
3.
Tofu Guacamole: One of the Most Easy Tofu Breakfast Ideas
You can upgrade the texture and health benefits of your regular guacamole just by adding tofu in it. Blend tofu, avocado and tahini together to get a smooth texture of this vegan cheese. Add cilantro, garlic, and olive oil.  In the end sprinkle chopped red onion, lemon juice and crushed walnuts 
Enjoy this delicious dip straight with microgreens like broccoli, radish etc. or serve with veggies strips like cucumber, bell pepper etc. 
4.
Tofu Onion Frittata: A Perfect Balance of Spices and Nutrients
This ultimate vegan breakfast is flavored with simple key spices and one of my favorite vegan tofu breakfast recipes. Crumble the tofu and mix with sea salt and black salt. This will give an egg flavor to the dish. 
Add a pinch of turmeric, pepper, onions, fresh herbs like cilantro, parsley, dill baby spinach and oil. Pour the mix in the iron skillet and bake in the preheated oven until crisp and golden. Serve with any vegan dip. 
5.
Cauliflower & Broccoli Tofu Casserole : A Wholesome Breakfast for Busy Mornings
Casseroles are quick to prepare and you can make them in a thousand different ways. This delectable casserole recipe is one of the simplest vegan breakfast ideas with tofu. 
Start by making a vegan cheese by mixing soaked cashews, tofu, salt and pepper. I add a small amount of miso as well. Pour this vegan cheese on top of slightly boiled cauliflower and broccoli florets. Bake it for 15-20 minutes and garnish with chopped parsley leaves. 
6.
Chinese Tofu Pudding: Treat Yourself With This Silken Tofu Breakfast Sweet Recipe
Known as Tau Foo Fah in China, this popular dessert is served in Cafes. It can be enjoyed warm or cold, however it tastes best when tofu is cold and the broth is hot. 
For this recipe, boil the water and add Chinese rock sugar and brown sugar in it with ginger slices. Let it simmer for 10 minutes on a low flame. Meanwhile, scoop out the silken tofu in the bowl and ladle some sweet broth into it. You can have it immediately or cold. 
7.
Tofu Collard Wrap: A Green Wrap for a Healthful and Light Start of the Day
For this delicious and gluten free wrap either stir fry or grill the tofu along with other vegetables like bell peppers, onions, zucchini. Slied the vegetables tofu lengthwise so that it will be easy to fill in the wrap. 
Wash and dry collard leaves before using as wrap. Spread a vegan mayo or edamame hummus on the collard wrap, load all the ingredients and wrap your breakfast to grab. 
8.
Vegan Quiche Cups: One of the Distinct Tofu Breakfast Ideas
These tiny quiche cups are so delicious that you will keep making them again and again. Make a tofu dip by blending it with almond milk. Heat up the oil and add garlic and mushrooms to saute. Then add salt, pepper and sun dried tomatoes. 
Switch off the flame and mix the tofu dip in it. For the crest mix almond and oat flour with flax egg. First spread the batter in the baking dish and then pour the filling. Bake for 30 minutes and your ultimate tofu quiche recipe for breakfast. 
9.
Energy Boosting Smoothie: A Hearty Tofu Breakfast for Busy Mornings
Smoothies are one of the easiest ways to get all the nutrients in one go. This creamy and luscious silken tofu breakfast smoothie will keep you energized for the whole day. 
I used fruits like frozen blueberries, strawberries and bananas, though you can choose your own variation. Blend silken tofu with fruits, baby spinach, pitted dates, hemp seeds, walnuts and almond/ any vegan milk. Your energy boosting smoothie is ready in no-time.  
10.
Crispy Tofu: A Delicious Fried Tofu Breakfast Option for Breakfast 
Coated in simple marination, this fried tofu breakfast option is an easy and tasty way to add tofu in your daily routine. For this recipe you will need firm or extra firm tofu. 
Marinate tofu cubes in soy sauce. Prepare cornstarch mix with garlic powder and ground black pepper. Coat tofu and pan fry it until crisp from both sides. Garnish with sesame seeds and green onion before serving.  
11.
Tofu Black Bean Enchiladas: A Protein-Packed Breakfast for an Active Day
You can prepare these enchiladas over the weekends and it will give you one less thing to think about on busy weekday mornings. Make the filling with scrambled tofu and boiled black beans. 
Layer up your corn or whole wheat tortillas with enchiladas sauce and wrap tofu and black bean mix. Arrange them in your baking dish, pour enchiladas sauce on top and bake for 10-15 minutes. Serve with tahini or vegan cream dip. 
12.
Tofu Stuffed Cheela: A Luscious Indian Savory Pancake For Breakfast 
This Indian breakfast tastes amazing and it is as simple as another pancake. For the stuffing, add oil in a hot pan followed by chopped garlic and onion. Then add scrambled tofu and salt and pepper. 
For Cheela or pancakes, prepare a batter with bengal gram flour, rice flour, turmeric, salt and pepper. Pour the mix on the pan and cook both sides. Stuff the tofu filling and enjoy with coriander dip also known as green chutney. 
13.
Tofu Breakfast Burrito: Delightful Silken Tofu Breakfast for Vegans
This version of burrito with tofu is one of the easiest tofu breakfast ideas. To prepare it you will need spiced scrambled tofu, roasted vegetables, ripe avocado and a vegan dip of your choice.
I use colorful vegetables like red, yellow and green peppers etc. You can take your choice of vegetables. Spread the sauce on the burrito and keep vegetables and scrambled tofu in the center. Roll it and enjoy your toothsome breakfast. 
14.
Stuffed Crepes With Tofu: Vegan Nalisniki As Delectable Morning Meal
Nalisniki is a classic Slavic dish which is basically a cottage cheese stuffed crepe. By replacing cheese with tofu we can make vegan Nalisniki. Mix flour, salt, sugar and aquafaba with little water.
Let it rest for 20-30 minutes. Meanwhile blitz tofu cubes with plant milk, brown sugar and vanilla extract until smooth. Cook both sides and fill with tofu mixture. Fold it in any shape and stir fry your vegan Nalisniki with olive oil before serving. 
15.
Tofu Egg and Tempeh Sausage Sub: Break the Dawn With This Fulfilling Tofu Breakfast Sandwich
This is a vegan version of the classic egg, sausage and cheese sandwich. Marinate tofu and tempeh with soy sauce, maple syrup or brown sugar, garlic powder, salt, turmeric, white pepper and red chili powder. 
Cut tofu in long sticks and tempeh in circular shape. Marinate overnight or at least 2-3 hours. Stir fry marinated tofu and tempeh and assemble with vegan burger bread or English muffin. Add tahini or guacamole as the dip. Add lettuce leaves for freshness and crunch. 
16.
Stir Fry Asparagus With Tofu: A Plant Based Morning Meal With Tofu
Asparagus and tofu complement each other well. For preparing this fried tofu breakfast you can use olive or sesame oil. First add asparaguses with chopped garlic in the oil as they will take time to cook. 
Once asparaguses are tender add extra firm tofu pieces, soy sauce, salt, pepper and finely chopped green onion.  You can also make it with Brussel sprouts. 
17.
Buddhist Vegan Stew: One of the Traditional Vegan Tofu Breakfast Recipes
Lo Han Jai or Buddhist Stew is a Chinese dish which is served on the first day of Lunar new year. For this, add sesame oil in a deep wok and with that ginger, garlic and red fermented bean curd or miso paste. Then add mushroom, napa cabbage, leek and tofu. 
Add soy sauce, sugar, vegetable broth and sesame oil for a richer flavor. Cook for 5-6 minutes, stirring occasionally. Lastly, put mung bean noodles and let it absorb all the liquid. Your Buddhist tofu breakfast bowl is ready to serve.
18.
Tofu Frittata: A Satisfying and Delightful Vegan Breakfast
This heavenly recipe is simple. First make the mix by blending firm tofu cubes with cornstarch, yeast flakes, salt, pepper, black salt, onion powder, garlic powder and soy milk. 
In your heavy bottom pan take oil and add chopped garlic, onion, mushroom and carrot. Cook for 3-4 minutes and add baby spinach. Once ready, spread the tofu mixture evenly on top of that. Bake until crisp and golden. 
19.
Spinach Sweet Potato Tofu Scramble With Toast: An Appetizing Morning Meal For A Plant Based Diet 
For this delicious recipe, first  heat up the oil in the pan and add sweet potato cubes with salt and pepper. Once cooked, set them aside and add onion, red bell pepper and tofu in the same pan. 
Scrambled tofu cubes with your spatula or with a fork and pour a spice mix of turmeric powder, ground cumin, pepper, paprika and salt with water. Finally, add spinach and cook without a lid. Serve it with avocado slices or with a toast for a more filling morning meal. 
20.
Tofu Pancakes : A Quick Treat for Hectic Mornings 
Pancakes are one of the most loved breakfast foods throughout the world. I keep experimenting with my pancakes and this tofu pancake became my instant favorite. 
To prepare, mix silken tofu with almond milk, all purpose flour, baking powder, coconut sugar, oil, vanilla extract, ground cardamom and a pinch of salt. Pour the batter on the pan and fry for around 2 minutes on each side until bubbles pop over. Enjoy with berries and maple syrup. 
21.
Tofu Paratha: A Protein Rich Twist to Popular Indian Breakfast Bread
Paratha is an Indian flatbread which is prepared with whole wheat flour and other vegetable stuffing. To make this start by preparing a dough with wheat flour. 
For the stuffing, crumble tofu and add some chopped onion, salt, coriander and green chilli. Add the stuffing to wheat balls and roll them out. Cook with some oil in a pan. Serve it with any vegan yogurt or coriander dip. 
Hope these vegan breakfast ideas with tofu will answer many of your query – "What to eat with tofu for breakfast?"
Give a try to these delicious tofu breakfast ideas and share your feedback with me in the comment section.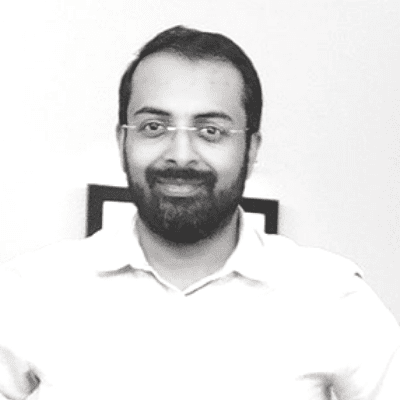 Hi! I'm Integrated Nutrition Coach Rohit Panwar. I hold twin Certifications from IIN, New York & SAFM, Massachusetts. I am a passionate vocalist of holistic lifestyle and have fully committed the past several years to educate & empower people towards their wellbeing. Despite a successful yet hectic corporate stint of 21+ years, I have prioritised nutriment in my life. I truly hope my personal journey from illness to wellness helps everybody reading this forge their own path.