Going soy-free and tofu free and worried about nutritious breakfast options? It may seem that vegan breakfast options without tofu are very limited, but this isn't the case. 
In this blog post, I'll be sharing my top favourite vegan breakfast options that are not only free of tofu but also easy to make, nutrition-packed, and absolutely delicious. So, grab a cup of coffee and let's get started!
41 Vegan Breakfast Without Tofu Options, Perfect for a Healthy Start to Your Day!
A s a vegan, it can be a bit of a challenge to find healthy and delicious options that don't involve tofu. This is why, as a nutritionist, I bring you the best options – 
1.
Breakfast Smoothie Bowl
The breakfast smoothie bowl is both tasty and simple to prepare. To make this.  Blend together banana,  plant yogurt or plant milk of your choice with high-protein seeds like chia, flax, and hemp.
You can also add in a vegetable such as kale to increase nutrient value, In addition to being a great source of protein, the bowl is also high in fibre and important nutrients.
2.
Granola & Plant Milk
For a nutritious and easy breakfast, try mixing granola with plant-based milk. This classic combination offers a balanced blend of protein, carbs, and healthy fats. I suggest using homemade granola, as it doesn't contain any synthetic preservatives or flavours.
This way, you can avoid unwanted additives and start your day with a healthy meal.
3.
Overnight Oats
One of my favorite no-cook vegan breakfast options is overnight oats. They are filling and incredibly easy to prepare. Simply combine rolled oats, plant milk like soy, coconut, chia seeds, and chopped nuts you like the night before and refrigerate.
In the morning, add chopped fruits as a topping to complete the meal. 
4.
Savoury Lentil Pancakes
The savoury lentil pancakes are a delicious twist to traditional pancakes. They are rich in fibre and protein which make them a great way to begin your day. To make the batter, blend saoke lentils, whole wheat flour, and some spices together.
Cook spoonfuls of the batter on a hot griddle until lightly browned. You can serve the pancakes with homemade chutney or sauce.
5.
Cauliflower Scramble 
A savoury cauliflower scramble is a low calorie vegan breakfast option without tofu. To make the scramble, pulse cleaned cauliflower florets. Cook these with your favorite veggies (such as onion, bell peppers, and mushroom) in a food processor.
You can serve the scramble with toast, or enjoy a warm and delicious meal.
6.
Baked & Stuffed Sweet Potato 
Sweet potatoes are an excellent choice for a high-fibre vegan breakfast option. To prepare, bake a sweet potato (pierced with holes) until tender. Cut it open, and stuff it with roasted or boiled chickpeas or a bean salad of your choice.
Drizzle some dressing on top for added flavour and enjoy a savoury and satisfying breakfast. 
7.
Mix Sprout Salad 
For a delicious and savoury breakfast option, you can try a mixed sprout salad rich in protein, fibre, vitamins, and minerals. Combine sprouts like alfalfa, green beans, and mixed greens with chopped veggies such as cherry tomatoes, cucumber, and red onion.
Squeeze some lemon juice over the salad and toss to mix.
8.
Poha
Poha is a delicious Indian dish that makes a warm breakfast option without tofu. To prepare this dish, you will need flattened rice or poha, chopped onions, chopped potatoes, mustard seeds, curry leaves, and other common spices.
Serve the dish with a cup of hot vegan chai for a perfect breakfast meal. 
9.
Oat Banana Pancakes
These pancakes are a fantastic choice for a satisfying breakfast. Instead of the regular flour use oat flour and banana to make batter.
You can also add in protein powder to add more protein content. They are also filling and loaded with essential vitamins and minerals.
10.
Millet/ Quinoa Porridge
For a comforting and nutritious breakfast option, you can prepare a quinoa or millet bowl. Cook the quinoa or millet in a plant-based milk like almond, oat, or coconut milk. Add cinnamon and date paste for flavour. Top the bowl with fruits, nuts, and seeds to make it more nutritious and delicious. 
11.
Chickpea Breakfast Bowl
For a hearty and nutritious plant-based breakfast, mix together your favorite vegetables, such as zucchini, beets, onions, tomatoes, and cucumbers, along with some boiled chickpeas.
Season the mixture with your preferred spices to create a savoury and filling breakfast meal that's rich in both fibre and protein..
12.
Besan Cheela
Cheela is a popular Indian breakfast item that is both rich in protein and easy to make. To prepare it, mix together besan or gram flour with chopped onions, tomatoes, and coriander to create a batter.
Add spices such as salt and pepper to the mixture, then pour it onto a flat pan and cook. Serve your cheelas with ketchup or homemade chutney.
13.
Aalo/ Gobi Parantha
Aaloo or gobi parathas are classic Indian breakfast items that can be added to your list of vegan breakfast without tofu. These stuffed flatbreads are easy to make.
Simply stuff your whole wheat dough balls with a filling of mashed potatoes or grated cauliflower (gobi), then roll them out into breads. Serve your parathas with pickles, chutney, or vegan yogurt.
14.
Chickpea Salad Sandwich 
A chickpea loaded sandwich is another great vegan option for those looking for high protein breakfast ideas.
This sandwich is made with a mashed cooked chickpea and fresh greens, providing a satisfying and flavourful meal that is also packed with essential proteins and vitamins.
15.
Banana Peanut Butter Sandwich
A quick and easy vegan breakfast idea is the classic banana peanut butter sandwich. Spread a generous amount of peanut butter on a slice of whole grain bread, then top it with freshly cut ripe bananas.
Sprinkle mixed seeds like chia, pumpkin, or sunflower seeds for an extra crunch and nutrition. 
16.
Uthappam
Uthappam provides a good balance of carbohydrates, protein, and healthy fats.. It is made from fermented batter made from a mixture of rice and lentils.
Once the batter is ready, spread in a pancake-like shape and top it with ingredients like chopped onions,tomatoes,  green chili, and spices. Serve it with coconut chutney or sambar. 
17.
Oatmeal
A warm, comforting bowl of oatmeal is perfect for days you're short on time. Cook your oats in non-dairy milk such as almond, soy, or oat. For a touch of sweetness, consider using natural sweeteners like maple syrup, agave nectar, or date paste.
Top it off with your favorite combination of fruits, nuts, and seeds that are easily accessible
18.
Veggie Quinoa Bowl
Starting your day with a wholesome vegetable quinoa bowl is a simple and nutritious choice. Not only is it easy to assemble, but it's also packed with essential minerals, vitamins, proteins, and fibre.
By choosing this amazing option, you can feel confident that you'll stay satiated and energised throughout the day.
19.
Upma 
Upma is a popular Indian breakfast dish that consists of semolina, chopped vegetables, water, and spices. However, for a healthier twist, you can substitute the semolina with quinoa.
To prepare, cook the quinoa or semolina with the vegetables, water, and spices until it reaches the right consistency. This vegan breakfast without tofu  is not only filling, but it's also a great source of key nutrients to start your day off right. 
20.
Chickpea Omelette
If you're looking to add more protein to your morning breakfast, consider incorporating the humble chickpea. A simple and tasty way to do so is by making a chickpea omelette.
Mix chickpea flour, water, turmeric, salt, and pepper in a bowl to create a batter. Next, pour the mixture into a pan and cook over medium heat..
21.
Vegan French Toast
You can give a classic breakfast dish a vegan twist by replacing the eggs with vegan alternatives like applesauce, custard powder, or ground flax seeds.
To prepare, mix the flour, plant milk, sweetener, nutmeg or cinnamon with your chosen egg replacement, and cook until golden brown. Feel free to experiment with different egg substitutes and find the one that works best for you!
22.
Veggie Breakfast Burrito
Burritos make for a quick, versatile, and nutritious vegan hot breakfast idea. To prepare, simply roll up a warm tortilla with chopped vegetables of your choice, cooked beans, and boiled potatoes.
This breakfast option not only provides you with a variety of essential nutrients, but it's also filling and satisfying, making it a great choice to help you power through your morning. 
23.
Quinoa Yogurt Parfait 
For a sweet and easy breakfast dish, try this simple and delicious layered option. In under 10 minutes, you can put together a breakfast that feels like dessert.
Start by layering a jar with non-dairy yogurt and a layer of cooked quinoa. Then, add in a layer of homemade granola and a layer of fresh fruit. For extra sweetness, you can also add some sweetener of your choice. 
24.
Mushrooms on Toast
For a simple and savory vegan breakfast, try sautéed mushrooms on whole wheat toast. To prepare, sauté sliced mushrooms in vegan butter or olive oil with garlic and herbs like thyme, rosemary, or parsley.
Once cooked, serve the hot mushrooms on top of a slice of toasted whole wheat bread. 
25.
Breakfast Muffins
For a sweet and fibre-packed breakfast treat, try making carrot cake muffins. These muffins are made with whole wheat flour and grated carrots, making them a healthier option. Mix in some raisins, chopped nuts, and spices for extra flavour and texture.
Serve them warm with a side of fresh fruit for a delicious and satisfying start to your day. 
26.
Avocado & Chickpea Toast 
For a quick and tasty high-fibre vegan breakfast, try avocado and chickpea toast. This simple yet satisfying breakfast will keep you feeling full and energized until lunchtime.
Plus, the healthy fats in avocado and the protein in chickpeas make this meal an excellent choice to start your day.
27.
Chickpea Scramble 
Try a chickpea scramble for a high fibre vegan breakfast option. Simply mash together some chickpeas and spices, then cook in a pan with a little oil until heated through. Top with a handful of veggies, like diced bell peppers, for added nutrients.
This breakfast option is not only quick and easy to make but also provides an excellent source of plant-based protein.
28.
Dosa
Dosa is a beloved South Indian dish made from a fermented batter of rice and urad dal. These crispy and crunchy crepe-like delights can be served with coconut chutney and sambar. For a heartier meal, you can also add a filling of spiced potatoes.
The perfect balance of tangy, spicy, and savory flavours, make for a delicious and satisfying vegan breakfast option without tofu. 
29.
Moong Dal Dosa
Moong dal dosa is a healthy and protein-rich breakfast dish that originates from India. It's created by combining a batter made from green mung beans and rice, resulting in vegan crepes that are both nutritious and delicious.
After seasoning the batter with salt and pepper, it can be cooked like a standard dosa. It's best served alone or alongside chutney or vegan yogurt.
30.
Baked Pumpkin Oatmeal
This breakfast recipe is perfect for chilly autumn and winter mornings, offering warmth and comfort. To make this, combine oats, pumpkin puree, alt milk, vegan sweetener such as maple syrup, pumpkin pie spice, vanilla extract, and salt in a mixing bowl.
Add your preferred toppings like nuts, fruits, and seeds and bake for a delicious breakfast treat.
31.
Savoury Mushrooms Oats Porridge
To switch things up, you can create savoury oats for breakfast. Begin by chopping garlic, ginger, and mushrooms, or any vegetables you have on hand. In a saucepan, sauté butter, garlic, and ginger before adding the mushrooms and cooking for a few minutes.
Next, pour in vegetable broth or water and bring to a boil. Add rolled oats, salt, and pepper, and simmer for five minutes.
32.
Kale Spinach Smoothie
The low-calorie kale spinach smoothie can be an excellent option for people limiting their calorie intake. Blend kale, spinach, banana, and almond milk together. For additional filling, consider adding ginger, lemon juice, and a scoop of protein powder.
The greens are high in fibre and vitamins but low in calories, making it an ideal way to kickstart your day.
33.
Moong Cheela
Moong dal cheela is a gluten-free and protein-packed Indian breakfast and snack recipe. To create this dish, prepare a batter using soaked moong dal (green gram beans), and mix in ginger garlic paste, chopped cilantro, chopped onion, and salt.
Use this mixture to make thin pancakes and serve with some homemade cilantro chutney.
34.
Coconut Chia Pudding
This vegan breakfast on-the-go option is both delicious and comforting. The night before, stir together coconut milk, chia seeds, sweetener of your choice, and shredded coconut, and allow it to sit in the fridge overnight.
The next morning, serve with freshly cut fruit or granola on top.
35.
Muesli Breakfast Bowl
A great way to kickstart your day is by including muesli in it. To begin, prepare homemade muesli using rolled oats, nuts, seeds, dried fruits, or any other desired ingredients.
Transfer the muesli to a bowl and add vegan milk or yogurt, allowing it to sit for a few minutes to soften. Mix in date paste, jaggery, or maple syrup and top with freshly cut fruit.
36.
Quinoa Frittata
For a vegan version of a frittata, use quinoa as your protein source in place of eggs. Begin by cooking quinoa, then combine it with sautéed vegetables like bell peppers, onions, spinach, and chickpeas. Add spices and herbs of your choice.
Next, heat a small amount of oil in a skillet over medium heat, pour in the quinoa mixture, and cook until the bottom is set. Transfer the skillet to the oven and bake until the top is set.
37.
Ragi Porridge
Ragi malt or porridge is a nutritious dish made with finger millet flour or soaked finger millet, water or plant milk, and jaggery. Finger millet or ragi seeds are small, red, and packed with many vitamins and minerals.
To make the dish, combine ragi flour with water, then transfer the mixture to a pot of boiling water and cook until it thickens. Turn off the heat and add plant milk and jaggery, along with chopped nuts.
38.
Breakfast Casserole
To make a high-protein vegan breakfast casserole, consider using ingredients such as seitan for protein, along with nutrient-rich vegetables like broccoli, spinach, or bell peppers.
This dish is a great way to start your day with a nutrient-packed meal that can help keep you feeling full for longer.
39.
Chickpea Wrap 
To make a simple and tasty chickpea wrap, begin by boiling some chickpeas. While they cook, chop up some vegetables like tomatoes, cucumber, and onions. Season the veggies with salt, pepper, cumin, coriander, and lemon juice.
Once the chickpeas are ready, mash them and combine with the seasoned vegetables. Scoop the mixture onto a tortilla or roti, roll it up, and enjoy!
40.
Nutty Shake 
Nutty shake is a quick and easy vegan breakfast beverage is both delicious and nutritious.
Simply blend together plant-based milk of your choice such as soy, almond, coconut, etc, nut butter, banana, soaked nuts, and a sweetener of your choice to get a smooth consistency drink. It's a perfect option for those busy mornings when you're on the go.
41.
Dhokla 
Dhokla is a vegan breakfast option that originates from Gujarat, India. It is made from fermented chickpea flour and can be steamed to create a spongy and flavourful texture.
Dhokla is high in protein and can be served with chutney or a spicy dipping sauce. It's a great breakfast choice that can be enjoyed by vegans and non-vegans alike.
In summary, going tofu-free shouldn't mean sacrificing taste or nutrition in your vegan breakfast. With plenty of options available you can begin your day with delish vegan breakfast without tofu. Don't be afraid to experiment with the ideas above until you find your favourites.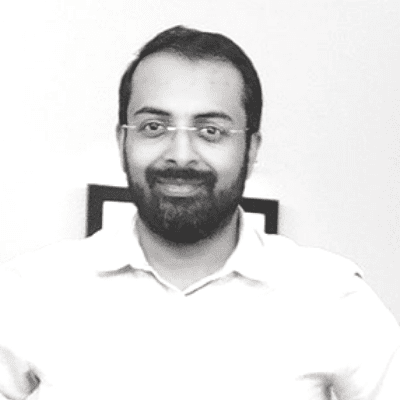 Hi! I'm Integrated Nutrition Coach Rohit Panwar. I hold twin Certifications from IIN, New York & SAFM, Massachusetts. I am a passionate vocalist of holistic lifestyle and have fully committed the past several years to educate & empower people towards their wellbeing. Despite a successful yet hectic corporate stint of 21+ years, I have prioritised nutriment in my life. I truly hope my personal journey from illness to wellness helps everybody reading this forge their own path.