Vegans sometimes feel that breakfast options for them are sometimes limited. However, with a little creativity,  imagination and the right ingredients, there are plenty of delicious vegan cooked breakfast ideas to choose from.
As a practising nutritionist, I am sharing with you a wealth of options to choose from. All of these are nutrient-rich, delicious, and 100% vegan. So, let's get started!
PEOPLE ALSO READ
| Best Hot Vegan Breakfast Options | 
32 Delicious & Nutritious Vegan Cooked Breakfast Ideas
From savory tofu scramble to sweet oatmeal bowls, there are plenty of options to choose from if you are looking for the best vegan cooked breakfast ideas – 
1.
Tofu Scramble
Tofu scramble is a staple in many vegan kitchens. Simply crumble firm tofu into a pan with your favorite veggies, spices, and seasonings for a quick and easy breakfast.
You can serve this scramble this high protein vegan option as a side dish or enjoy it with a whole wheat toast.
2.
Chickpea Omelette
Use a vegan egg replacement to make a fluffy omelette filled with chopped veggies, vegan cheese, and herbs.
A vegan omelette can be made with a mixture of chickpea flour, water, and seasonings, poured into a hot pan and filled with your favorite veggies.
3.
Quiche
Try a vegan version of the classic quiche using tofu or a vegan egg replacement. Fill it with your favorite veggies, cheese, and spices.
The addition of vegetables such as spinach, onions, and red bell peppers, can help you increase the fibre and vitamin content of this meal. 
4.
Dairy-Free Pancakes
These fluffy vegan pancakes are made with a simple blend of flour (I prefer oat flour), baking powder, plant-based milk, and a vegan sweetener like maple syrup, date paste, etc.
Top with fresh fruit, maple syrup, and a sprinkle of cinnamon for a comforting breakfast.
5.
Oatmeal Waffles
Waffles are a classic breakfast food and can easily be made vegan. For these waffles, you will need oat flour, baking powder, and plant-based milk.
You can add alternative flours, such as coconut or almond flour to increase nutrition. Once cooked, serve the waffles with your favorite fruits and syrup. 
6.
French Toast
This classic breakfast dish can be given a vegan twist. As an egg replacement you can use applesauce, custard powder, ground flax seeds, etc.
Mix up the flour, plant milk, sweetener, nutmeg/ cinnamon with the egg replacement and cook until golden brown.
7.
Vegan Breakfast Burrito
A Vegan Breakfast Burrito is a hearty option made with scrambled tofu, black beans, bell peppers, avocado, and salsa wrapped in a warm flour tortilla.
It's filling, protein-packed, and packed with flavor. Enjoy it on the go for a satisfying start to your day.
8.
Vegan Oatmeal Bowl
Oatmeal is a classic breakfast option that can also be one of the easiest vegan cooked breakfast ideas.
Cook your oatmeal in plant milk that you like such as almond milk, soy milk, etc. Once cooked, add these fruits, nuts, and spices for a filling and nutritious breakfast.
9.
Upma 
Upma is a traditional Indian breakfast dish made using semolina, chopped vegetables, water and spices.
You can also add in some cashew nuts to your upma to improve its nutritional profile. Upma is a filling and satisfying breakfast option that can be served with chutney. 
10.
Vegan Breakfast Tacos
Vegan Breakfast Tacos are a tasty and filling plant-based breakfast option that is easy to customise to your liking.
In a soft warm taco fill in a mixture of scrambled tofu, veggies, and spices, and topped with salsa, avocado, and hot sauce.
11.
Breakfast Casserole
Bake a vegan breakfast casserole filled with tofu, veggies, cheese, and spices for a warm and satisfying start to your day.
Mix together a mixture of veggies, tofu, and seasonings, then bake in the oven until golden and crispy for a hearty start to the day.
12.
Dhokla 
Dhokla is a popular Indian vegetarian dish served for breakfast or as a snack. It is made from a batter of besan flour and spices. The batter is steamed, then cut into small pieces.
Although the traditional recipe uses yogurt, you can skip that and use a vegan yogurt instead. .
13.
Chickpea Tofu Sandwich
Chickpea Tofu Sandwiches are a vegan-friendly option that will keep you full till lunch for sure.
The chickpeas and tofu are a good source of protein, while whole grain bread and veggies supply the carbs and fibre to make it a complete meal. 
14.
Vegan Breakfast Sausage
These plant-based sausages are an alternative to traditional pork sausages. They are ,ade from a combination of ingredients such as soy protein, vital wheat gluten, and spices.
They  are a good source of protein and flavour. You can serve them with tofu scramble, roasted vegetables, or a whole grain toast. 
15.
Vegan Shakshuka
Vegan Shakshuka is a plant-based twist on the traditional Middle Eastern dish.
It is made by cooking spiced tomatoes, peppers, and onions, into a flavourful sauce. Once done, instead of the eggs, tofu or tempeh is added. You can serve it with crusty bread
16.
Poha 
Poha is a popular vegan breakfast dish in India made from flattened rice, spices, and vegetables. This dish has a diverse flavour profile and can be tweaked to include more veggies. 
I generally like to add in vegetables such as peas, carrots, onions, and potatoes, to enhance its nutritional profile. 
17.
Vegan Breakfast Burrito Bowl
A Vegan Breakfast Burrito Bowl is a filling and nutrient rich plant-based breakfast option.To make this, you will need t a base of rice or quinoa, topped with scrambled tofu or tempeh, black beans, sautéed veggies, and salsa.
This dish is packed with protein, fiber, and flavor, making it a satisfying and nutritious start to your day. 
18.
Cauliflower Scramble 
The savoury cauliflower scramble is filling, low in calorie option for vegans. To make this, pulse cleaned cauliflower florets in a food processor.
Now cook it in a skillet  along with your favourite veggies like onion, bell peppers, and mushroom. Serve with toast or eat as such.
19.
Mushrooms on Toast
This vegan breakfast option is as simple as it sounds. Sauté sliced mushrooms in vegan butter or olive oil with garlic and herbs such as thyme, rosemary or parsley.
Serve these  hot mushrooms on top of toasted whole wheat bread.
20.
Quinoa Porridge
This nutritious and comforting breakfast option is made from quinoa, plant milk, cinnamon  and date paste.
Cook your quinoa in plant milk like almond, oats, soy, etc. Once cooked, transfer to a bowl and top with fruits, nuts, and seeds. 
21.
Stuffed Peppers
Stuffed Peppers are a nutritious and flavorful breakfast option for vegans. Stuff your bell peppers with a mixture of grains, such as quinoa or rice, and vegetables such as mushrooms, onions, and tomatoes.
Spice with herbs of your choice and bake them well.  Bake them well and enjoy. 
22.
Quinoa Parfait
Made with cooked quinoa, non-dairy yogurt, fresh berries, granola, and a sweetener, this breakfast option will keep you full for a long time. Layer the yogurt, cooked quinoa, granola and fresh berries in a jar. Drizzle some maple syrup and your breakfast is ready.
23.
Stuffed Parantha 
A Stuffed Parantha is a traditional Indian breakfast made with a soft, whole wheat flatbread filled with a flavourful stuffing of your choice, such as spiced potatoes, tofu, or mixed veggies.
You can serve this with vegan yogurt, pickle, or chutney.
24.
Vegan Breakfast Frittata
This classic breakfast dish can be made with a mixture of veggies, chickpea flour, tofu, and seasonings. Once all your ingredients are mixed well, you can bake them in the oven until golden and fluffy for a delicious and nutritious vegan breakfast frittata.
25.
Vegan Breakfast Muffins
Bake a batch of vegan breakfast muffins for breakfast. They are  tasty and portable breakfast treats that can also be made with a variety of alternative flours, such as oat or almond flour.
For filling you can put in sweet or savoury filling such as fruits, veggies, nuts and spices. 
26.
Cheela
Cheela is a popular Indian breakfast item made from besan or gram flour. It is rich in protein and fibre.
To make this, prepare a batter of besan or gram flour with onions, tomatoes, and chopped coriander. Mix in the spices like salt, pepper, etc and cook like thin pancakes. Serve with homemade chutney. 
27.
Dosa
Dosa is a popular South Indian dish made from a fermented batter of rice and urad dal.
The crispy and crunchy crepe-like dosas can be served with an easy to make coconut chutney and sambar. You can also add in to this a filling of spiced potatoes. 
28.
Chickpea Avocado Toast
This is another simple breakfast option that is filling and nutrient rich. To make the toast, mash up a ripe avocado on top of a piece of toast, then add in the boiled and slightly mashed chickpeas.
Season with salt, pepper and any other spices like cumin or paprika powder. 
29. 
Idli
Another amazing addition to vegan cooked breakfast ideas is idli.  Idlis are made with the batter of rice and lentils that have been fermented. The light and fluffy idlis can be served with chutney or sambar or both.
Also, they are not only vegan, but also gluten-free option.
30.
Baked Sweet Potato
This can be made into a sweet or savoury option depending on your preferences. Bake sweet potatoes until soft, then fill with your favorite toppings, such as black beans, salsa, and guacamole, for a delicious and filling vegan breakfast option.
Alternatively add to this peanut butter, vegan cream cheese, cinnamon and maple syrup.
31.
Beans Salad
This breakfast option is easy to make and is rich in fibre, protein, vitamins and minerals. To make this, simply combine together cooked beans of your choice like black, kidney, or green beans,  chopped vegetables like tomatoes, cucumber, red onion, and parsley.
Squeeze in some lemon juice and enjoy. 
32.
Uthappam
Uthappam is one of the popular vegan cooked breakfast options if you are looking for something Indian. It is made from fermented batter made from a mixture of rice and lentils.
Once the batter is ready, it is cooked like a pancake and topped with onions, tomatoes,  green chili, and spices 
In conclusion, there are so many delicious and nutritious vegan cooked breakfast ideas that can be easily cooked at home. So, go ahead and try out some new vegan breakfast ideas today, and let me know how it turned out.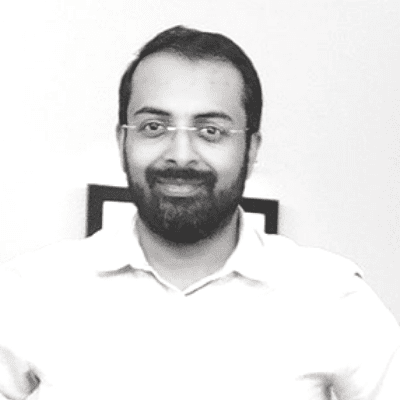 Hi! I'm Integrated Nutrition Coach Rohit Panwar. I hold twin Certifications from IIN, New York & SAFM, Massachusetts. I am a passionate vocalist of holistic lifestyle and have fully committed the past several years to educate & empower people towards their wellbeing. Despite a successful yet hectic corporate stint of 21+ years, I have prioritised nutriment in my life. I truly hope my personal journey from illness to wellness helps everybody reading this forge their own path.