Bowls and smoothies are good, but a warm breakfast is something else. This is why I am sharing here my top choices as a nutritionist for vegan hot breakfast ideas. 
The warm vegan breakfast ideas I share here include sweet and savoury options. Try them out and start your day with a hot and nourishing breakfast.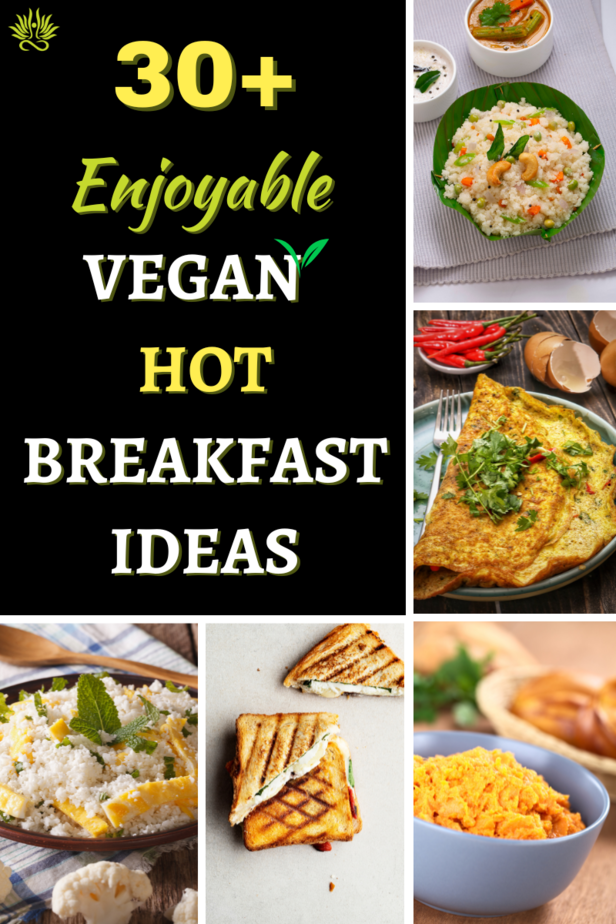 PEOPLE ALSO READ
| Best Cold Vegan Breakfast Options | 
Vegan Hot Breakfast Ideas: 37 Satisfying Options
The best vegan hot breakfast ideas shared here are inspired by some classic breakfast ideas and some unique ones, from different parts of the worlds. So, let's begin – 
1. 
Warm & Sweet Oatmeal
Let's start with the basic. The warm comforting oatmeal bowl can come to your rescue on days when you don't feel like cooking much.
All you need to do is  cook your oats with non-dairy milk such as almond, soy, or oat. To sweeten, add maple syrup, agave nectar or my favourite – date paste  or stevia. Top it up with fruits, nuts, and seeds that are available at hand. 
2.
Cauliflower Scramble 
The savoury cauliflower scramble is filling, low in calorie option for vegans. weight loss breakfast ideas for vegans. It is easy to make as well.
Pulse cleaned cauliflower florets in a food along with your favourite veggies like onion, bell peppers, and mushroom. Serve with toast or eat it the way it is. 
3.
Vegan Shakshuka 
Shakshuka is a Middle Eastern dish that is made by poaching eggs in a tomato-based sauce.
For making this dish vegan, all you got to do is replace the eggs with plant based protein such as tempeh or tofu or other vegan meats. Serve this warm breakfast with a piece of garlic bread. 
4.
Millet/ Quinoa Porridge
This nutritious and comforting breakfast option made from quinoa, plant milk, cinnamon  and date paste. Cook your quinoa or millet of your choice in a plant milk like almond, oats, soy, etc.
Top this porridge with fruits, nuts, and seeds. 
5.
Savoury Oats Porridge
If you prefer a more savoury breakfast, try the savoury oats porridge. Chop up some garlic, ginger, and vegetables you like.
Cook them with butter, in a saucepan along with some broth or water. To this add rolled oats along with salt, pepper and other spices. 
6. 
Upma 
Upma is a traditional Indian breakfast dish made using semolina, chopped vegetables, water and spices. You can also replace the semolina here with quinoa.
Serve the steaming hot upma with chutney or coconut chutney for a filling vegan breakfast.
7.
Veggie Tofu Scramble
Easy to make, this tofu scramble is a great way to begin your day on a nutritious note. To make this, crumble firm tofu and then sauté it in a pan with vegetables such as bell peppers, onions, and mushrooms.
Also add in spices such as turmeric, black pepper, etc. for a real nice savoury taste. 
8.
Uthappam
Another delicious vegan hot breakfast Indian dish, Uthappam provides a good balance of carbohydrates, protein, and healthy fats.. It is made from fermented batter made from a mixture of rice and lentils.
Once the batter is ready, spread in a pancake-like shape and top it with ingredients like chopped onions,tomatoes,  green chili, and spices .Serve it with coconut chutney or sambar. 
9. 
Baked Beans
The classic breakfast dish, baked is an excellent vegan breakfast option. The protein and fibre rich food can be made from navy beans slow-cooked in a sweet and savory tomato-based sauce.
You can serve it on its own or on a toast, or as a side dish with some vegan mashed potatoes, etc.  
10. 
Aalo/ Gobi Parantha
Another classic Indian breakfast item that can be added to the vegan hot breakfast ideas option are aaloo or gobi parathas. The stuffed flatbreads are easy to make as well.
Stuff your whole wheat dough balls with an aaloo i.e mashed potato or grated cauliflower (gobi) filling and roll out into breads. You can enjoy it with pickles, chutney, or vegan yogurt.
11.
Quinoa Breakfast Bowl  
Quinoa, is an excellent food to include in your breakfast if you are vegan. It is great source of fibre and protein along with vitamins and minerals.
Cook overnight soaked quinoa along with some coconut oil and cinnamon till quinoa absorbs all the water. Transfer into a bowl and add almond milk, nuts, chopped fruit of your choice along with a sweetener. .
12.
Dosa
Dosa, a popular South Indian dish is made from a fermented batter of rice and urad dal. The crispy and crunchy crepe like dosas are a comfort food and taste best when served piping hot with coconut chutney and sambar.
Also, not to forget, this deliciousness comes with lots of nutrition.
13.
Vegan Pancakes 
For a hot morning satisfying breakfast pancakes is one of the best options. Here instead of milk you can use plant milk and instead of cutter you can use vegan butter or coconut oil.
I also recommend using oat flour instead of regular flour to make it more nutritionally rich. Enjoy a batch of hot pancakes with a topping of fruits and maple syrup.
14.
Vegan Breakfast Casserole
One of my favourite vegan hot breakfast ideas is a breakfast casserole. I love the fact that it is really customisable and can be made with almost any kind of veggies.
In my casserole , I generally use potatoes, tofu, dairy free cheese. Veggies and chickpea flour instead of egg to give your casserole the texture it needs.
15.
Savoury Millet Pancakes
If you are in mood for something salty, you can try veggie pancakes. For this mix together your millet flour, grated veggies, salt & spices, bit of oil, vegan yogurt, baking powder and water together to form a batter.
Now put this over a skillet and make it just like you make pancakes. Serve it with ketchup or chutneys. 
16.
Vegan Fry-Up Breakfast 
This is a hearty and filling breakfast that can be cutomised and made with any available plant-based ingredients.
Assemble all your ingredients such as grilled or fried tofu, baked beans, mushrooms, roasted tomatoes, hash browns, chopped spinach, etc. Sauté them in a vegan oil of your choice and add in your choice of spices. Enjoy a warm and nutritious meal.
17.
Sweet Potato Pancakes 
Apart from the traditional pancakes, these sweet potato pancakes can be a great addition to your list of vegan hot breakfast ideas. 
Make your regular pancake batter and to this add mashed sweet potato. Cook well and serve them with a scoop of peanut butter and maple syrup.
18.
Chickpea Omelette
Want to include more protein in your morning breakfast, try the humble chickpeas. Mix together chickpea flour, water, turmeric, salt, and pepper in a bowl to form a batter similar to that when making an egg omellete.
Pour this mixture over a pan and cook over medium heat.
19.
Ragi Porridge
Finger millet or ragi are tiny red seeds rich in many vitamins and minerals. This dish can be made using finger millet flour,  water/ plant milk and jaggery. You start by combining the ragi flour with water.
Then transfer this to a boiling pan of water and cooked well till the mixture thickens. Now switch off heat and add plant milk and jaggery. I also like to add chopped nuts to the mix. 
20.
Baked Pumpkin Oatmeal
Perfect for the season of fall, the warm baked pumpkin oatmeal is extremely delicious and comforting.
To make this, combine the oats, pumpkin puree, plant milk, maple syrup or other vegan sweetener, pumpkin pie spice, vanilla extract, and salt. Add in your favourite toppings like nuts, fruits and seeds, and bake.
21.
Veggie Breakfast Burrito
Burritos are quick, versatile and nutritious which makes them one of the best options for vegan hot breakfast ideas.
Roll up your warm tortilla with chopped vegetables of your choice, cooked beans or boiled potatoes. Scrambled tofu, etc.  For the sauce you can use cashew butter or mashed avocado and salsa sauce.
22.
Cheela
Cheela is a popular Indian breakfast item. It is rich in protein, and easy to make. You need to simply prepare a batter of besan or gram flour with onions, tomatoes, chopped coriander.
Mix in the spices like salt, pepper, etc and pour it on a flat pan. Enjoy these cheelas with ketchup or homemade chutney. 
23.
Vegan French Toast
Another sweet treat for breakfast is a French toast but completely plant based.
For making it vegan, you will need  cornstarch or custard powder, vegan milk like soy, coconut or others, cornstarch, ground flaxseeds, baking powder, maple syrup, cinnamon and vanilla. Cook it like a regular French toast and enjoy. 
24.
Sweet Potato Breakfast Bowl
This is one of my personal favourite vegan breakfast options. In a bowl combine roasting or sweet potatoes. To this you can add sweet or  savoury as per your liking.
I generally like to add nut butter, fresh cut fruit, granola, nuts, cinnamon/ nutmeg and seeds. For savoury option, add in shopped greens, avocado, bell peppers, etc. 
25.
Sabudana Khichdi
Sabudana khichdi, a popular Indian dish is not only vegan but also gluten free. You can make it bu cooking soaked tapioca pearls (or sabudana) with spices, peanuts, and vegetables.
Make sure to use a plant based oil or butter to cook it, so that it is completely vegan. The khichdi is a filling and nutritious dish that you can serve with chutney.
26.
Oat Flour Waffles
A  nutritional alternative to traditional waffles, these waffles use oat flour instead.  This makes the waffles a great source of protein and fibre.
You can prepare them like any other vegan waffles and serve them with a nut butter like almond or peanut and some maple syrup. 
27.
Quinoa Frittata
A quinoa frittata is a vegan twist to a frittata made with eggs. To make the frittata, cook quinoa, then mix with sautéed vegetables, and your choice of plant-based protein such as tofu or chickpeas.
Pour the mixture into a hot skillet and cook until the bottom is set, then transfer the skillet to the oven and bake until the top is set.
28.
Baked Sweet Potatoes
Sweet potatoes are rich in fibre, low in calories and will keep you full for a long time, which make them a great breakfast option. For this recipe bake sweet potato with holes.
Once it's nicely done, slice it open in between and put in a filing of your choice. You can fill it up with scrambled tofu, chickpeas or other veggies.
29.
Poha
Poha a flavourful Indian dish is quick and easy to make and the perfect choice for a warm breakfast.
To make this dish you need poha or flattened rice, chopped onions, chopped potatoes, mustard seeds, curry leaves, and other common spices. Serve it with a cup of hot vegan chai. 
30.
Mushrooms on Toast
A simple dish, mushrooms on toast is quick and delicious. Sauté sliced mushrooms in vegan butter or olive oil with garlic and herbs such as thyme, rosemary or parsley.
Serve these  hot mushrooms on top of toasted whole wheat bread.
31.
Pesarattu or Moong Dal Dosa
The protein packed Pesarattu or moong dal dosa, originated in Andhra Pradesh, India. These, vegan crepes are made from a batter of green mung beans and rice.
Cook these like thin crepes or dosa. Enjoy it as such or with a chutney or vegan yogurt. 
32.
Dhokla 
Dhokla is a popular vegetarian dish from the Indian state of Gujarat. It is made from a batter of besan flour and spices. The batter is steamed, then cut into small pieces and served as a snack or light meal.
Although the traditional recipe uses yogurt, you can skip that and use a vegan yogurt instead.  Serve with mint or tamarind chutney.
33.
Chickpea Flour Pancake
Chickpea flour pancakes are rich in fibre, protein and other nutrients. These are made using chickpea flour and can be made quickly.
Combine together chickpea flour, baking powder, and your choice of spices and chopped vegetables. Mix well and cook like a thin pancakes. 
34.
Idli
Another amazing option for hot vegan breakfast is the humble idli. Idlis are made with the batter of rice and lentils that have been fermented.
The light and fluffy idlis taste best when served right off the steamer. Also, they are not only vegan, but also gluten-free, making them a healthy and nutritious option for those following a plant-based diet.
35.
Scrambled Tofu & Toast
Another easy to make recipe that is best when served hot is scrambled tofu. Crumble firm tofu in a pan and cook it with oil or vegan butter.
Add in salt, pepper, and nutritional yeast, seasonings and sauté until the tofu mixes well with the spices. Serve with a whole grain bread toast
36.
Millet Pancakes 
Replace your regular flour with millet flour and increase the nutrition quotient of your traditional pancakes. You can experiment with different types of millet flour available in the market.
My favourites are – Foxtail millet flour and finger millet flour. Cook it like you would cook regular pancakes and serve with vegan cream cheese.
37.
Grilled Sandwich
A vegan grilled sandwich can be made using a variety of plant-based ingredients, such as vegetables, tofu, and vegan cheese.
You can try out a combination of different fillings like mashed avocado, bell peppers, onions, chickpeas, tofu, etc. You can also experiment with the spreads and sauces you want to use in the sandwich. 
These were some of my favourite nutritionally rich options for vegan hot breakfast ideas. I would love to know and try out any options that I missed out. Do let me know in the comment section below.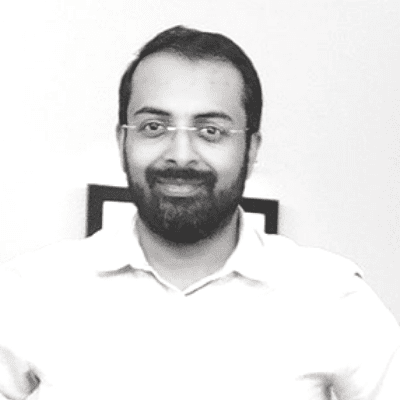 Hi! I'm Integrated Nutrition Coach Rohit Panwar. I hold twin Certifications from IIN, New York & SAFM, Massachusetts. I am a passionate vocalist of holistic lifestyle and have fully committed the past several years to educate & empower people towards their wellbeing. Despite a successful yet hectic corporate stint of 21+ years, I have prioritised nutriment in my life. I truly hope my personal journey from illness to wellness helps everybody reading this forge their own path.