You found out about walnut milk, got excited, bought your own or made your own at home. Now what? Wondering what are the best walnut milk uses?
This is where I can help you as a nutritionist and lover of plant-based milks. Stay with me right till the end and find out how to use walnut milk.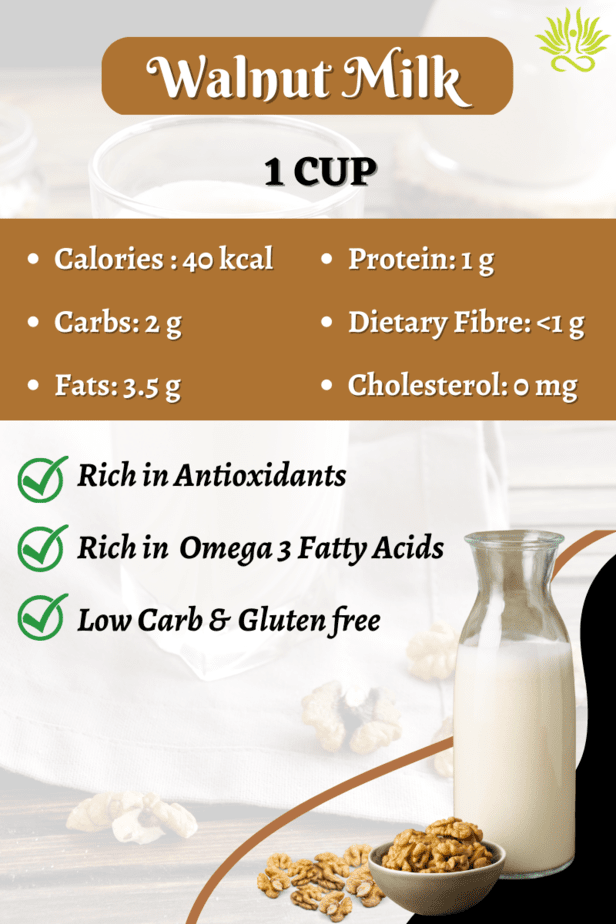 PEOPLE ALSO READ
| What is the Best Plant Milk to Make At Home?  | 
11 Remarkable Walnut Milk Uses You Need to Try Right Now!
Walnut milk is relatively new in the plant milk segment but trying it out will surely not disappoint you. This nut based milk is low in carbs but rich in nutrients like good fats, antioxidants and fibre. 
Not only this, walnut milk can be put to use in a  number of ways –
1. Drink Up the Delicious Walnut Milk 
Let's begin with the obvious. Walnut milk is one of the best tasting nut milks in my opinion. It is creamy and thick and a good choice if you wish to go beyond almond milk.
Walnut milk has a prominent nutty taste (stronger than almond) which feels great as such or with the addition of a hint of maple syrup or a sweetener of your choice.
2. Walnut Milk Can Be the Perfect Addition to Your Coffee 
If you love your lattes, try them with walnut milk. This creamy alt milk froths up nicely and gives your coffee a slightly nutty flavour.  
I generally recommend making your own vegan milk at home including walnut milk. The texture is better suited for adding to the coffee. 
3. Walnut Milk Is Ideal for Use in Smoothies & Smoothie Bowls
Walnut milk can not only add taste to your favourite smoothies, but it can also add to it the nutrients. Some of my favourite additions to a walnut milk smoothies are cocoa, bananas and berries. 
I generally use partially filtered or unfiltered homemade walnut milk for smoothies and smoothie bowls. You get the additional fibre and a thick texture. 
4. Walnut Milk in Your Cereal Bowl is a Hit
This is another one the simple walnut milk uses. Just add walnut milk directly to your cereal for a healthy start to the day. 
Unflavoured or chocolate flavored cereal goes best with walnut milk. You can also pour it over a bowl of homemade muesli or granola.   
5. Use Walnut Milk for Your Overnight Oats 
Love overnight oats? Me too! It is one of my favourite time saving and nutritious breakfasts. I love to add seeds, nuts and berries to it. 
Walnut can be used as a base for your overnight oats just as easily as any other plant milk or yogurt. 
6. Walnut Milk Makes Wonderful Ice Creams
Since walnut milk has a nutty flavour and a good fat content, it is the ideal choice for making ice creams. Here too, you can use unfiltered or partially filtered homemade walnut milk. 
You can experiment with the flavours like coffee, chocolates, vanilla, etc. I also like to add some toasted nuts to give it an extra crunch. 
7. Use Walnut Milk for Cocktails & Mocktails 
I recently tried walnut milk in some of my favourite cocktails, and it turned out delicious. The creaminess and nuttiness of walnut milk goes really well with whiskeys and bourbons. 
Likewise, you can also use walnut milk for making delicious and creamy mocktails. 
8. Bake With Walnut Milk
If you are looking for a dairy replacement for baking, walnut milk can be it. Use it as you would use dairy milk or any plant milk. 
Unflavoured or homemade walnut milk works best and gives your baked goods a hint of its rich flavour
9. Try Vegan Kefir With Walnut Milk
Kefir, a fermented dairy product, is known for its health benefits. It has many good bacteria that can help boost immunity and improve gut health
Homemade walnut milk can work well for making kefir.  However, you will need to activate kefir grains before using it in walnut milk or any other plant milk.
10. Use Walnut Milk for Your Curries & Soups
The rich and creamy walnut milk is also a great choice when it comes to adding it to curries and soups. You can use it for vegan and non-vegan recipes alike.  
Walnut milk also tastes great in soups. The creaminess of walnut milk compliments soups like mushroom soup for vegans and chicken soup for non vegetarians. You can also use it for cold soups. 
11. Try Walnut Milk For Golden Milk & Hot Chocolate
I generally use almond milk for golden and hot chocolate milk, but using walnut milk has been a different kind of experience. Golden or turmeric milk is known for its benefits. It is generally made using cow's milk, but plant milk like walnut milk works as well. 
Warm up the walnut milk on low flame and to this add your turmeric, spices and sweetener. Enjoy the nutrition and taste. For hot chocolate you will need to add cocoa. 
So, next time you make a fresh batch try one of these walnut milk uses and let me know in the comment section how it went.   
Frequently Asked Questions About Walnut Milk Uses
What is walnut milk good for?
Ans.  Walnut milk is thick and creamy and can be put to a number of uses including making smoothies, in ice creams and baking.
How do you drink walnut milk?
Ans.  Walnut milk can be had as such. You can also add natural sweeteners and flavours such as cocoa with it. 
Can walnut milk be heated?
Ans.  Yes, you can heat walnut milk. However, heat it on low heat or in a microwave. 
Is walnut milk good for weight loss?
Ans. Walnut milk is low in calories in comparison to dairy milk, and is thus a good option for those wanting to manage their weight. 
How long is walnut milk good for?
Ans. You can keep walnut milk in the refrigerator for up to 5 days. If you are using store bought almond milk, check the label for the exact day of use. 
Is walnut milk anti inflammatory?
Ans.  Walnut and walnut milk is  a good source of Omega 3 fatty acids. These are good fats and known for their anti-inflammatory properties.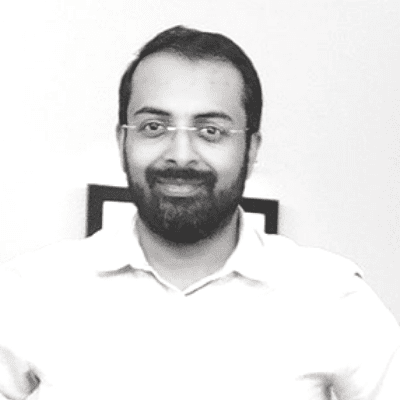 Hi! I'm Integrated Nutrition Coach Rohit Panwar. I hold twin Certifications from IIN, New York & SAFM, Massachusetts. I am a passionate vocalist of holistic lifestyle and have fully committed the past several years to educate & empower people towards their wellbeing. Despite a successful yet hectic corporate stint of 21+ years, I have prioritised nutriment in my life. I truly hope my personal journey from illness to wellness helps everybody reading this forge their own path.