Looking for the best weight gain breakfast ideas for vegans? Gaining weight as a vegan isn't hard if you choose the right meals starting from breakfast. 
As a practising nutritionist, let me help you come up with a breakfast meal plan that is rich in nutrients and will help you gain weight the right way. 
36 Super Easy Weight Gain Breakfast Ideas for Vegans
Gaining weight the right way requires you to have a meal plan that includes foods rich in whole carbohydrates, healthy fats, and protein.
So, in my list of plant based breakfast ideas to gain weight, I have tried to include meals that has the right balance of taste and nutrition – 
1.
Chickpea Avocado Toast: Easy & Quick Protein-Packed Power Breakfast
If you have some boiled chickpeas, this can turn out to be a quick and easy breakfast option. All you need to do is mash some cooked chickpeas and spread it on top of toasted bread.
To this add some slices avocado. Sprinkle some spices such as cumin and black pepper, and some lemon juice for added flavour. 
2.
Mixed Sprout Roll/ Wrap: Wholesome Vegan Breakfast To Gain Weight
A sprout roll can be a great way to incorporate more protein into your diet. For this, sprouts such as mung bean, lentil, alfalfa, bean, etc.
Mix these sprouts with chopped cucumber, onions, tomatoes, bell peppers, lemon juice and spices. Now in your wrap or tortilla, spread your favourite spread like hummus, sauce, etc. and fill up with the sprout mix.
3.
Quinoa Upma: A Twist of Nutrition To The Indian Vegan Breakfast Classic
A traditional breakfast dish upma, can be tweaked in to include more protein by replacing semolina with cooked quinoa. 
You can cook the upma just like regular upma but with much less water. Add your favourite vegetables and spices, and you have yourself a breakfast rich in plant-based protein, fiber, and healthy fats. 
4.
Peanut Butter & Banana Sandwich: Has all Things You Need To Put On Weight The Healthy Way
Another easy vegan breakfast on the go is this quick banana peanut butter sandwich. Slather your piece of whole grain toast with some peanut butter.
Now top it up with some freshly cut bananas. Add some chia seeds, pumpkin or sunflower seeds for an extra crunch and nutrition.  
5.
Pesarattu or Moong Dal Dosa: Load Up On Protein With This Super Delicious Indian Savoury Pancake
Belonging to Southern India, these protein rich,  vegan crepes are made from green mung beans and rice. You will need to make a batter by grinding together soaked moong dal and rice.
Spice the batter lightly and cook like a dosa. Enjoy it as such or with a chutney or vegan yogurt. 
6.
Oats, Banana & Peanut Butter Pancakes: A Delicious & Nutritious Way to Begin Your Day 
One of the most versatile and amazing weight gain breakfast ideas for vegans are these pancakes.
To make these, you will need a mix of oat flour and regular flour, baking powder, mashed bananas, non-dairy milk, and peanut butter. Mix them up and cook up a delicious batch of pancakes. Serve it up with some maple syrup. 
7.
Tofu Parantha: A Nutrient Rich Indian Breakfast Option To Help You Put on a Few Pounds
Paranthas or stuffed bread are a breakfast staple in many parts of India. To make a vegan nutritious paratha, you can use tofu as a filling.
Crumble tofu and to this add some salt, green chilli, onion. Use this mixture to make a hearty paratha and serve with some plant based yogurt. 
8.
Cashew Cheese Pancake: Among My Favourite Weight Gain Breakfast Ideas for Vegans
Make your pancake batter more delicious and rich by replacing a few ingredients. To make it, you will need cashews, flour, baking powder, salt, non-dairy milk, nutritional yeast, cinnamon.
Soak the cashews for a few hours, blend it with all other ingredients. Mix well and cook like a pancake. Enjoy the delicious cheesy flavor! 
9.
Scrambled Tofu & Toast: A Vegan Twist to A Classic Breakfast Option
For vegans, tofu is one of the best substitute for scrambled eggs. Crumble firm tofu in a pan and cook it with oil or vegan butter.
You can add salt, pepper, and nutritional yeast, seasonings and sauté until the tofu is heated through and scrambled. Serve this scrambled tofu with a whole grain bread toast
10.
Peanut Butter Banana Oatmeal: A Comforting Breakfast Option for A Healthy Start 
This simple and nutritious oatmeal combines the flavors of peanut butter, banana, and oatmeal. Cook your oatmeal with your favourite plant milk. To this add mashed banana and a spoonful of peanut butter.
Add date paste or maple syrup along with some cinnamon. Stir well to combine and enjoy it warm. You can also add some chopped dried fruits and nuts for a crunch. 
11.
Tofu Stuffed Cheela: A Filling & Nutritious Start to The Day
Tofu Stuffed Cheela is a variation of the popular Indian breakfast item Cheela. Instead of just the cheela or gram flour crepe. this one also has a filling of crumbled tofu.
This breakfast option is rich in protein and delicious. You can eat it with chutney or sauce.  
12.
Vegan Protein Shake: A Great Vegan Breakfast Option To Help You Bulk Up 
Make your very own high breakfast breakfast to up your protein intake. You can use ingredients such as plant-based protein powder, non-dairy milk, fruits, and nuts and seeds of your choice.
Just blend in all your ingredients together and enjoy a filling breakfast. 
13.
Millet Pancakes with Cream Cheese: A Delicious & Nutritious Companion On Your Weight Gain Journey
Replace your regular flour with millet flour and transform your weight gain journey. You can keep experimenting with different types of millet flour available in the market.
My favourites are – Foxtail millet flour and finger millet flour. Once your pancakes are ready, just serve them with a vegan cream cheese like coconut or cashew cream cheese. 
14.
Chickpea Flour Pancakes: When You're in Mood For Savoury  Goodness 
Chickpeas – is all things good. As a vegan chickpeas and chickpea flour are some of the must have ingredients in your kitchen. To make these savoury pancakes mix together chickpea flour, water, and spices such as cumin, coriander, and salt.
Add chopped vegetables, such as onion, tomato, and bell pepper, to this batter. Cook like a pancake and enjoy with chutney or sauce.
15.
Vegan Veggie Burrito: Easy & Highly Customisable Breakfast Option
Make a delicious and nutrient rich breakfast burrito with simple home made ingredients. 
Fill up your warm tortilla with a boiled chickpeas/ scrambled tofu along with diced vegetables, such as diced bell peppers, onions, tomatoes, spinach, etc. You can also include leftover beans or boiled potatoes. 
16.
Coconut Cashew Overnight Oats: Definitely The Most Delicious Way to Begin Your Day 
Overnight oats are probably most versatile and easiest breakfast option for vegans. If you are trying to gain weight.
The previous night, mix together rolled oats, coconut milk, cashew butter,  chia seeds, in a jar. Refrigerate overnight and top it up with some chopped fruits like bananas before digging into in the next morning. 
17.
Chickpea Wrap: The No Hassle Choice for Weight Gain Vegan Breakfast

For this, you will need boiled chickpeas at hand. Chop up some vegetables such as  tomatoes, cucumber, and onions.
To this add salt, pepper, cumin, coriander, and lemon juice. Now mix these veggies with the boiled chickpeas, Mash the chickpeas so that they combine well. Now fill up this mixture in a tortilla or a roti and enjoy. 
18.
Sweet Potato Pancakes: For a Fulfilling & Nutritious Morning Experience
Sweet Potato Pancakes are a delicious and nutritious variation of traditional pancakes. Make your regular pancake batter and to this add mashed sweet potato.
Cook well and serve them with a scoop of peanut butter and maple syrup. 
19.
Granola Parfait With Coconut Yogurt: The Dessert Like Vegan Breakfast For Putting On Pounds
Use your homemade granola to make a satisfying and healthy parfait. Use your favourite seeds, dried fruits, nuts and nut butters to make this granola.
Layer coconut yogurt, granola, and fresh fruit in a jar. Keep layering till your jar is filled. 
20.
Avocado Spinach Smoothie: Rich, Creamy & Nutrient Rich Addition to Your Weight Gain Morning Meal Plan
This healthy and delicious drink can be made within a few minutes. Blend avocado, spinach, a banana, non-dairy milk, vegan protein powder, and deseeded dates into a blender.
You can also add seeds such as pumpkin, chia or sunflower to this mix for a thick luscious smoothie. 
21.
Muesli Breakfast Bowl: Effortless, Quick & Hearty Choice for A Vegan Breakfast
This begins by preparing some homemade muesli using rolled oats, nuts, seeds, dried fruits, etc. Transfer this in a bowl and add  vegan milk or yogurt and let sit for a few minutes to soften.
Add date paste, jaggery or maple syrup to this mixture and top it up with some freshly cut fruits. 
22.
Hummus Tahini Sandwich: Experience The Burst of Flavours In Your Morning Meal 
If you are looking to gain weight the right way, hummus and tahini can be your best friends. Take slices of whole grain bread.
Spread hummus and tahini on then and then add some vegetables like lettuce, tomato, cucumber, etc. You can also add slices of tofu to this. Enjoy a delicious and nutritious breakfast. 
23.
Quinoa Porridge:
This is a nutritious and comforting breakfast option made from quinoa, plant milk, cinnamon  and date paste. Cook your quinoa in a plant milk of your choice.
Once cooked, add the date paste and cinnamon. Top with fruits, nuts, and seeds. 
24.
Sprouts Dhokla: Adding More Protein & Nutrients To This Vegan Indian Breakfast Option
Sprouts Dhokla is a twist to the traditional gram flour based dhokla. Instead of the gram flour, we use a paste of sprouted moong beans.
The sprouted moong beans are high in protein content and elevate the nutrition of this dish. 
25.
Chocolate Banana Smoothie Bowl: Flavoursome Combination of the Best Foods That Help You Put on Weight
Blend a, cocoa powder, dates, peanut butter and non-dairy milk  or yogurt until thick and creamy. Transfer this smoothie into a bowl.
Top it with your favourite toppings like fresh fruits, nuts, seeds, granola or chocolate chips. 
26.
Almond Flour Pancakes: An Appetising Take on The Traditional Version
Want a gluten free pancake? Replace your flour with almond flour. The pancakes made with almond flour is lighter, fluffier and has a higher protein content than the traditional one.
This is one of the best weight gain breakfast ideas for vegans. 
27.
Buckwheat Groats Porridge: Comforting Bowl of Nutrient Rich Superfood
Buckwheat Groats Porridge is a warm and comforting breakfast option. It can be made at home using buckwheat groats, vegan milk of your choice and a sweetener.
It's a great alternative to traditional oatmeal, and you can flavour it with a variety of fruits, nuts and sweeteners. 
28.
Tempeh Sandwich: Adding Soy Richness to Your Morning Meal
Tempeh, a fermented soy product, is a good source of probiotics and protein. as the main ingredient. Tempeh is very versatile, you can steam it, fry it and pair it with a variety of flavours.
Use this cooked tempeh to make a sandwich by adding veggies and spreads of your choice. 
29.
Easy Protein Muffins: Quick Make Ahead Vegan Breakfast Option For Weight Gain
You can use protein powder, oat flour, nut butter, vegan milk, coconut oil, and date paste or maple syrup to make a delicious and hearty protein muffin.
Mix all the ingredients together along with some chopped nuts. Bake this mixture like your regular muffin and enjoy. 
30.
Mixed Sprouts Poha: A Balanced India-Inspired Vegan Breakfast Option
Give your traditional poha a protein kick by adding to it mixed sprouts. The process of making the poha is similar to that of making a regular poha but you will be adding some mixed sprouts into the recipe.
Instead of normal white poha you can use red rice poha as it contains more fibre, minerals and vitamins. 
31.
Tofu Sandwich: Try This Popular Vegan Breakfast to Gain Weight
Often used as a meat substitute, tofu is another vegan essential. The sandwich is very versatile and can be made in a number of ways.
You can use raw or cooked tofu and layer it in whole grain bread long with vegetables such as lettuce, tomato, onions, cucumber, etc. You can use tahini, or other vegan spreads as a base to elevate the flavour. 
32.
Quinoa Breakfast Bowl: Fuel Your Morning with Plant-Based Goodness
Quinoa is an excellent food to include in your breakfast if you are aiming to gaining weight. Cook overnight soaked quinoa along with some coconut oil and cinnamon till quinoa absorbs all the water.
Transfer into a bowl and add vegan milk of your choice, nuts, chopped fruit of your choice along with a sweetener to enjoy a delicious morning meal.
33.
Vegan Baked Protein Oats: Guilt-Free Indulgence with a Protein Punch
If you love oats, this baked protein oats recipe is for you. For this recipe, you will need a plant based protein powder, oats, banana, coconut oil, maple syrup and salt.
Blend them all together and place in a bowl. Top it up with some nuts and fruits and bake for a few minutes. 
34.
Vegan Shakshuka: Perfect Combination of Flavors and Textures For Your Weight Gain Journey
Shakshuka, a Middle Eastern dish typically made with eggs poached in a flavorful tomato-based sauce, can be made vegan too. Here in place on eggs, you can use tofu or any other plant based meat.
The rest of it remains the same. You can serve it with garlic bread. 
35.
Vegan Breakfast Casserole: Savory and Satisfying Plant Based Breakfast Option 
This eggless breakfast casserole can be made using potatoes, plant based meat or tofu, dairy free cheese and veggies.
Chickpea flour can be used instead of egg and gives your casserole the texture it needs.
36.
Vegan Chickpea Omelette: Protein-Packed Vegan Breakfast Delight
Chickpea flour and black salt  can be an excellent replacement to your egg in making this delicious vegan omellete. Mix together chickpea flour, water, turmeric, salt, and pepper in a bowl.
Heat a non-stick pan over medium heat and add some oil. Pour the chickpea mixture into the pan and cook for 2-3 minutes on each side until golden brown. 
This brings me to the end of this blog on weight gain breakfast ideas for vegans. Most of the listed items here can be experimented with.
You can use different flavours and pairing to come up with your unique version.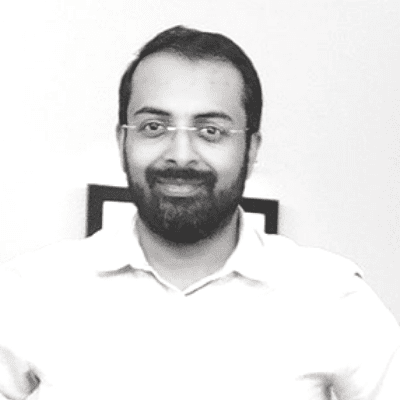 Hi! I'm Integrated Nutrition Coach Rohit Panwar. I hold twin Certifications from IIN, New York & SAFM, Massachusetts. I am a passionate vocalist of holistic lifestyle and have fully committed the past several years to educate & empower people towards their wellbeing. Despite a successful yet hectic corporate stint of 21+ years, I have prioritised nutriment in my life. I truly hope my personal journey from illness to wellness helps everybody reading this forge their own path.