Wondering what to do with pistachio milk? The lesser-used pistachio milk is one of the best nut milks to use in vegan and non vegan recipes. 
In this blog, I share with you my favourite tried, tested and tasted ways of incorporating pistachio milk in your everyday life.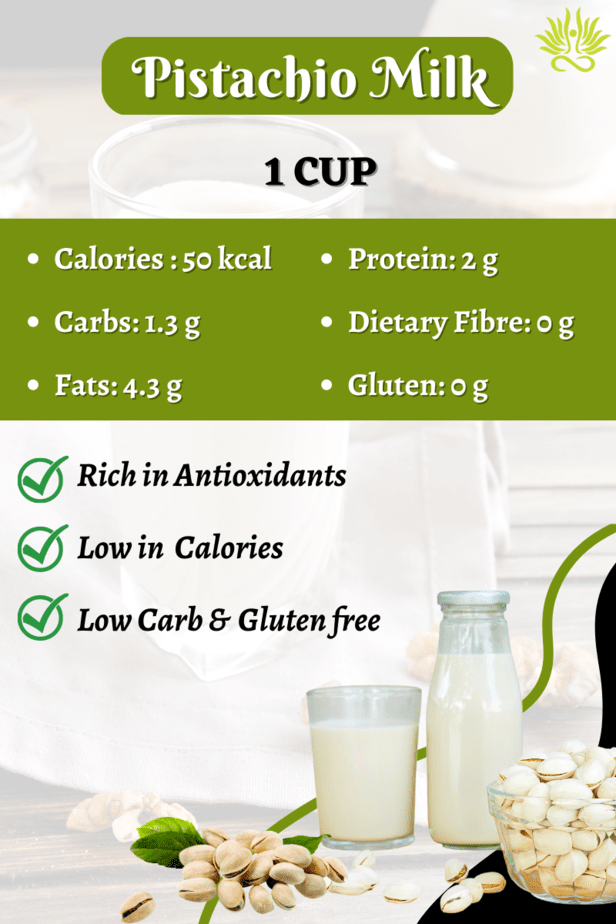 PEOPLE ALSO READ
| 21 Phenomenal Ways to Use Plant Milks At Home | 
What to Do With Pistachio Milk – 16 Palatable Picks
Pistachio milk has diverse uses and can be used as a substitute for cow's milk in many recipes. My top favourite ways of using Pistachio milk are –  
1. Drink Up the Delicious Pistachio Milk
Pistachio milk looks beautiful and tastes amazing. If you've been using Almond milk for some time, pistachio milk can be a great change. 
You can serve pistachio milk as such can, chilled and enjoyed on its own or add flavours and sweeteners to enhance its taste. My favourite addition is cardamom and agave nectar.  
2. Pistachio milk is a Great Match for Your Cereal Bowl
Pistachio milk can be a tasty and nutritious addition to your morning cereal.  Pour it over your cereal as a dairy-free alternative to cow's milk. 
You can also use pistachio milk as a base for your oatmeal or porridge. Heat is on a medium heat and use it the way you would use dairy or non dairy milk. 
3. Use Pistachio Milk for Shakes & Smoothies
Pistachio milk can be used as a base for smoothies, milk shakes and protein shakes. Just add the desired amount of pistachio milk to your blender along with your other ingredients and enjoy a creamy drink. 
Some of my favourite ingredients to be used in smoothies along with pistachio milk are Frozen fruit, such as berries, mango, or banana spinach & kale and tofu & berries. 
4. Give Pistachio Milk Latte & Pistachio Milk Coffee a Try
Pistachio milk froths pretty well which is why it is an excellent dairy-free milk alternative  for your lattes or cappuccinos.
Pistachio milk can also be used in your tea. The creamy and nutty flavour will certainly add a tasteful twist to your traditional cup of milk tea. 
5. Prepare Overnight Oats With Pistachio Milk 
Overnight oats are a convenient and healthy breakfast option is easy to make, convenient to eat and quite nutritious. In most cases, yogurt is used as a base for overnight oats, but vegans can use plant milks as well. 
In a bowl combine chia seeds (or other seeds of your choice) crushed pistachios, pistachio milk and oats. You can also add a sweetener like date pase or agave nectar. Keep refrigerated overnight and enjoy in the morning with your favourite toppins of fruits. 
6. Use Pistachio Milk to Make Yogurt
If you are looking for dairy alternatives to make yogurt, pistachio milk can be a pretty good choice. To make yogurt with pistachio milk, you will need to follow the same basic process as you would for making yogurt with cow's milk. 
To warmed pistachio milk, add active yogurt culture. Let it sit for a 6-12 hours in a warm place. In between check for the desired sourness. Refrigerate when done and enjoy the creamy, tangy, nutty pistachio milk yogurt. 
7. Use Pistachio Milk to Make Kefir
Kefir is a fermented milk beverage which is rich in a lot of good bacteria also known as probiotics. Kefir can be easily made using plant based milk including pistachio milk. 
Use water kefir grains or activated kefir grains to make pistachio milk. The fermentation of pistachio milk may take 24-48 hours. 
8. Pistachio Milk Makes the Best Ice Creams & Popsicles
Anyone who has ever tried the Indian dessert –  pista kulfi knows that pistachios are a great combination as frozen treats. 
Pistachio milk adds a unique, nutty flavor and creamy texture to popsicles and ice creams. To use pistachio milk in ice cream, simply replace some or all of the milk with pistachio milk. 
9. Prepare Delicious Cocktails & Mocktails With Pistachio Milk
Pistachio milk can be used as a base for cocktails for a nutty and creamy flavour. Try it in place of coconut milk or Almond milk and you will notice the pleasant difference.
For teetotalers, just replace the alcohol with your favourite juice. 
10. Add Pistachio Milk to Your Baked Foods
Pistachio milk can also be used as a substitute of cow's milk in baking cakes, cookies, breads, and pies. Use it the same way as you would use dairy milk. 
One thing to remember here is that pistachio milk is relatively low in fat content and is less thick than cow's milk. Therefore, you might need ti add additional fat to the recipe to achieve the desired texture. 
11. Use Pistachio Milk As a Base for Your Curries 
Pistachio milk can be a great addition to curries. It adds a creamy and unique flavor that complements the spices and herbs really well.
You can begin by adding small amounts of pistachio milk in your curries. Stir gradually and increase the quantity until you achieve the desired flavor and consistency.
12. Boost Your Immunity With Pistachio Golden Milk
The traditional Indian drink "golden milk," made with milk turmeric and other spices can be made using pistachio milk as well. 
Pistachio golden milk combines the nutty flavor of pistachio milk with the warm, spicy flavor of turmeric and other herbs such as ginger, cinnamon and cardamom to create a delicious and healthful beverage.
13. Use Pistachio Milk for Your Pancakes & Waffles Batter
Just like other non dairy milks,  pistachio milk too can be a great addition to pancake and waffle batter. The nutty flavour will lends your pancakes a nice subtle flavour.
If you are using pistachio milk for the first time in your pancake and waffle batter, stick to the basic pancake recipe first like a simple vanilla flavoured pancake and then experiment with other flavours.
14. Pistachio Milk is A Great Addition to Soups
Pistachio milk can also be added to your savoury soups to give it a creamy flavour and texture. 
Try using it as a replacement for coconut milk or other types of milk in your soups and feel the difference in flavours. 
15. Choose Pistachio Milk for Your Dips & Spreads
Pistachio milk can be used to prepare dip and spreads that are creamy and flavorful. 
However, since pistachio milk is thinner than cream and yogurt (the usual base for dips) use a thicker batch for preparing your dips or adjust the quantity according to your needs.
16. Use Pistachio Milk for Desserts
This is one of my favourite ways of using pistachio milk. It can be used in a variety of desserts to add a rich, nutty flavor and a creamy texture.
 Some of my favourite desserts that use pistachio milk are chia pudding, mousse and panna cotta. 
I hope you were able to find the answer to the question –  what to do with pistachio milk. In case you know of any other uses, I will be more than happy to explore. 
Frequently Asked Questions About What to Do With Pistachio Milk
What goes well with pistachio milk?
Ans.  Pistachio milk goes well with a variety of flavours. Some of my favouirte are – cardamom,  nutmeg, cinnamon and vanilla. 
Can you heat pistachio milk?
Ans.  Yes, you can heat pistachio milk. However, it is important to be careful to avoid scorching or curdling. Try to use a double boiler or a thick bottom pan. Heat and low to medium heat and stir frequently as it heats to ensure that it heats evenly.
How long does pistachio milk last?
Ans.  Homemade pistachio milk  stored in an airtight container in the refrigerator will last for 3-5 days.  
Is pistachio milk good in coffee?
Ans.  Yes, pistachio milk is a great addition to your morning coffee. Also, since it foams well, you can use it for lattes and cappuccinos.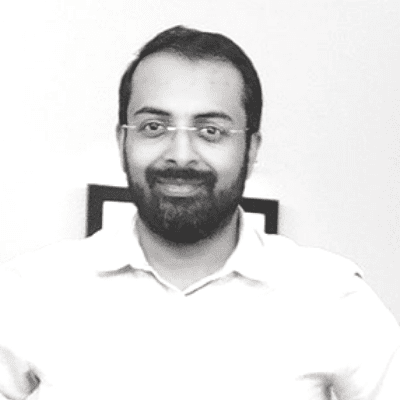 Hi! I'm Integrated Nutrition Coach Rohit Panwar. I hold twin Certifications from IIN, New York & SAFM, Massachusetts. I am a passionate vocalist of holistic lifestyle and have fully committed the past several years to educate & empower people towards their wellbeing. Despite a successful yet hectic corporate stint of 21+ years, I have prioritised nutriment in my life. I truly hope my personal journey from illness to wellness helps everybody reading this forge their own path.