With so many variations of fermented dairy products around the world, it sometimes gets confusing whether they are  just different names for the same product. One such confusion is yogurt versus buttermilk. 
While both have a few similarities, yogurt and buttermilk are completely different products. Let me take you through these differences.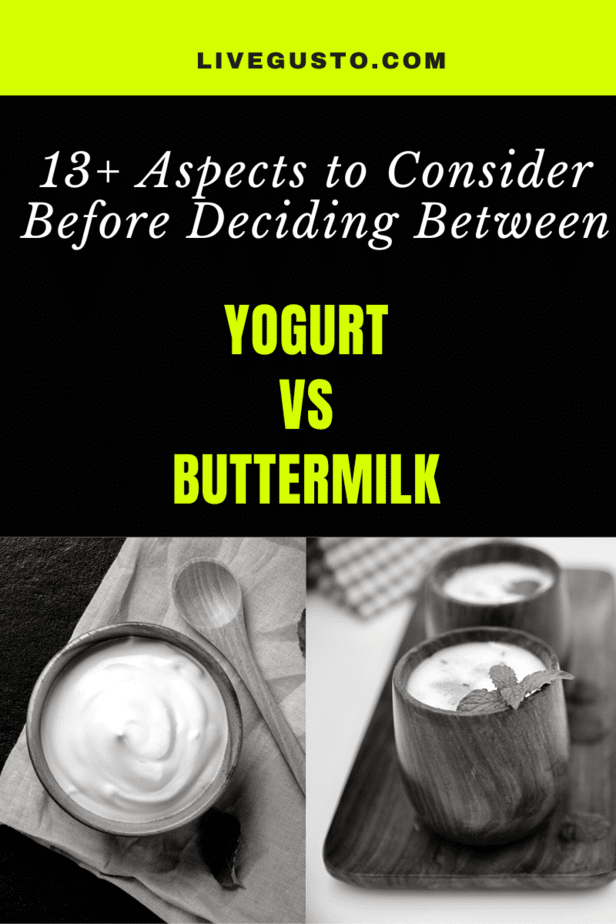 PEOPLE ALSO READ
| Yogurt Versus Curd – Are They the Same? | 
Comparing Yogurt Versus Buttermilk on 15 Outcome & Nutritional Attributes
Before I go into the details, take a quick look at some comparative attributes such as yogurt vs buttermilk taste, calories, etc. 
BASE INGREDIENTS
Yogurt

Milk & Culture

Buttermilk

Curd & Water

TASTE
Yogurt

Sweet & Sour

Buttermilk

Sour & tangy

DAILY INTAKE
Yogurt

1 cup

Buttermilk

1 cup

CALORIES
Yogurt

159*

Buttermilk

152*

CARBOHYDRATES
Yogurt

12 g*

Buttermilk

12 g*

FAT CONTENT
Yogurt

8 g*

Buttermilk

8 g*

PROTEIN CONTENT
Yogurt

 8 g*

Buttermilk

8 g*

CALCIUM CONTENT
Yogurt

300 mg*

Buttermilk

282 g*

RECOMMENDED TIME
Yogurt

Morning or Noon

Buttermilk

Morning or Noon

ENVIRONMENTAL IMPACT
Yogurt

Negative

Buttermilk

Negative

VEGAN FRIENDLINESS
Yogurt

No

Buttermilk

No

ORAL HEALTH OUTCOME
Yogurt

Very Good

Buttermilk

Very Good

TUMMY HEALTH OUTCOME
Yogurt

Good

Buttermilk

Very Good

BODILY COOLING EFFECT
Yogurt

Good

Buttermilk

Very good

ADDITIVES
Yogurt

Fruits & Honey

Buttermilk

Herbs & Spices
*Source: USDA; Quantity defined is 1 cup made using whole milk 
I hope you have an idea of how different yogurt and buttermilk are, by looking at the table. Let me get into the details for more clarity:
Is Buttermilk Just A Mix of Yogurt and Water?
The answer is no! The method of preparation is what primarily differentiates yogurt from buttermilk. Yogurt is made by adding yogurt culture to warm milk. This mixture is allowed to ferment for a few hours to obtain the delicious yogurt. 
Buttermilk is traditionally obtained from the butter making process. In the modern times, it is made by artificially fermenting milk with citric acid. The modern version is also called cultured buttermilk. 
Yogurt vs Buttermilk Taste and Consistency Differences  
This is another prominent difference between buttermilk and yogurt. Yogurt, unlike buttermilk, has a thick consistency. When it comes to taste, it is slightly sour and creamy.  
Buttermilk is also tangy in taste. The traditional versions are less sour when compared to the cultured versions. Consistency-wise, buttermilk is quite thin.  If you are wondering using buttermilk vs yogurt fried chicken, both will turn out to be fairly similar in taste and texture.
How Much of Yogurt Vs Lassi Can Be Consumed Per Day? 
Yogurt and buttermilk are both very nutritious dairy products and can be included in your daily diet. One cup is the daily recommended quantity for both. In summers however, you can increase the quantity of buttermilk up to 2 cups. 
A question that a lot of people ask me is "can yogurt replace buttermilk in my diet?" It most definitely can. Both have very similar nutritional values and taste and can be used in lieu of another, be it for cooking or for consumption. 
Yogurt Vs Buttermilk: More Calorie-Friendly? 
If you are concerned about your calorie intake, buttermilk would be a better option when compared to yogurt. The calories in buttermilk can be reduced even further by diluting it with water. 
Calorie-wise both yogurt and buttermilk both seem quite high. If you are worried about the calories, you can opt for products that are made using low fat milk.  
Which Has More Carbs – Yogurt or Lassi?
Carbohydrates are essentially sugar molecules that are obtained from food. Our body breaks them down to obtain energy. Many people opt for low-carb foods as a part of their diets. 
Buttermilk and yogurt are both moderately high in carbs. However, if you do wish to enjoy these products without worrying about the carbs, you can opt for their low-carb versions. Also, make sure you buy unsweetened varieties. 
More Fat Content in Yogurt Or Buttermilk?
Both buttermilk and yogurt have almost the same amount of fat .If you are consuming yogurt and buttermilk made using whole milk, the amount of fat is definitely going to be higher. 
For lower fat intake, choose products that are made using low fat or skimmed milk. You can also reduce the quantity or water it down for lower fats. 
Which One Has More Proteins – Yogurt or Buttermilk?
Yogurt and buttermilk are both dairy products which means that they are great sources of  protein. Both have similar quantities of protein, so you can pick either one of them. 
Apart from protein, yogurt and buttermilk, like milk, are also rich in many vitamins including A and B which makes them an excellent dietary choice. 
Yogurt Vs Buttermilk- Which Has More Calcium? 
Calcium is needed for many bodily functions but most importantly it is needed for stronger bones and muscles. is one of the best sources of calcium. 
All dairy products are excellent sources of calcium. Yogurt and buttermilk also fall under this category.  Yogurt has slightly more calcium content in comparison to buttermilk. 
When to Consume Laban Versus Buttermilk?
Yogurt is best consumed during the day. This is because during this time, the digestion of the body is the best. Your body will have enough time to absorb the nutrients from the yogurt.  
Buttermilk is best consumed either during the day or in the morning for breakfast. This way you will be able to reap all its benefits.
Which One's Vegan- Friendly: Yogurt or Buttermilk
Traditional versions of yogurt are made using dairy milk, and hence are not suitable for vegans. However, there has been an increase in the plant based yogurts in the market which you can try out as a vegan. 
Buttermilk is made using cow's milk, so again it is unfortunately not a vegan-friendly option. 
Yogurt Vs Buttermilk: Does Their Impact on Environment Vary?
Dairy-based yogurt and buttermilk are not environmentally sustainable. The impact of the dairy industry of resources is alarming which makes their impact on the planet negative.  
Dairy Vegan yogurt is a better option as compared to traditional dairy yogurt. However, the plant versions are not going to be as nutrient-rich as the dairy versions.
Better Choice for Oral Health: Yogurt or Buttermilk
Yogurt and buttermilk are both good for overall dental health. This can be attributed to their high calcium content. Other than the calcium they also contain many other nutrients that can help fight tooth decay. 
An additional advantage that yogurt and buttermilk have is that they are probiotics. This means they have good bacteria.  These good bacteria that help in keeping the bad bacteria in the mouth at bay.
Yogurt or Buttermilk for a Healthy Tummy
Yogurt and buttermilk are both probiotic foods that are loaded with good bacteria. These bacteria improve your gut health. In comparison to yogurt, buttermilk is more easily digested owing to its more liquid consistency. 
In case you are wondering which has more probiotics, yogurt or buttermilk, then yogurt has an advantage here. Buttermilk only has one type of bacteria, but yogurt has two different types of bacteria.
Effective Remedy Bodily Cooling: Yogurt or Buttermilk?
Yogurt and buttermilk are wonderful summer-friendly dairy products. They contain high water content that can keep you cool. Since buttermilk has more water than yogurt, it has a more cooling effect. 
Along with water, yogurt and buttermilk are also rich in minerals like potassium, sodium and calcium. These minerals act as electrolytes and help in maintaining the water level of the body.  
Yogurt Vs Buttermilk: The More Versatile Choice?
Yogurt goes well with both sweet and salty flavours making it a very diverse product. Blend it with fresh fruits and honey for a delicious smoothie or add fresh herbs and salt for a savoury treat.  
Buttermilk can be consumed as such or with added flavours. Personally I recommend adding freshly chopped mint leaves and a dash of salt for a refreshing drink. Alternatively, you can also add rose water and honey for a sweet taste. 
I hope you have better clarity about the difference between yogurt and buttermilk. Since they are so nutrient-rich, you can add either one or both in your diet depending on your needs and preferences. 
I will be happy to answer any further questions that you may have. Feel free to reach out to me in the comments section below.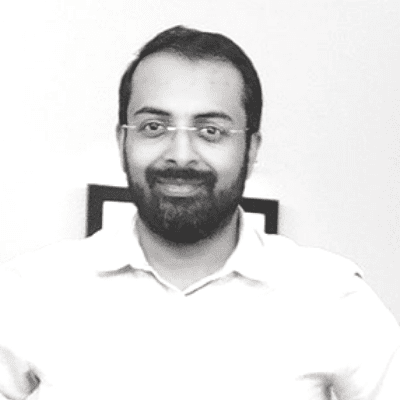 Hi! I'm Integrated Nutrition Coach Rohit Panwar. I hold twin Certifications from IIN, New York & SAFM, Massachusetts. I am a passionate vocalist of holistic lifestyle and have fully committed the past several years to educate & empower people towards their wellbeing. Despite a successful yet hectic corporate stint of 21+ years, I have prioritised nutriment in my life. I truly hope my personal journey from illness to wellness helps everybody reading this forge their own path.