With similar health benefits and texture, it is often confusing to understand buttermilk versus laban. Knowing the similarities and differences between them can add so much value to your dietary choices.
In this article, I bring you extremely helpful details about both these wonderful drinks. I will compare them for various criteria so you can go ahead and choose what works best for you.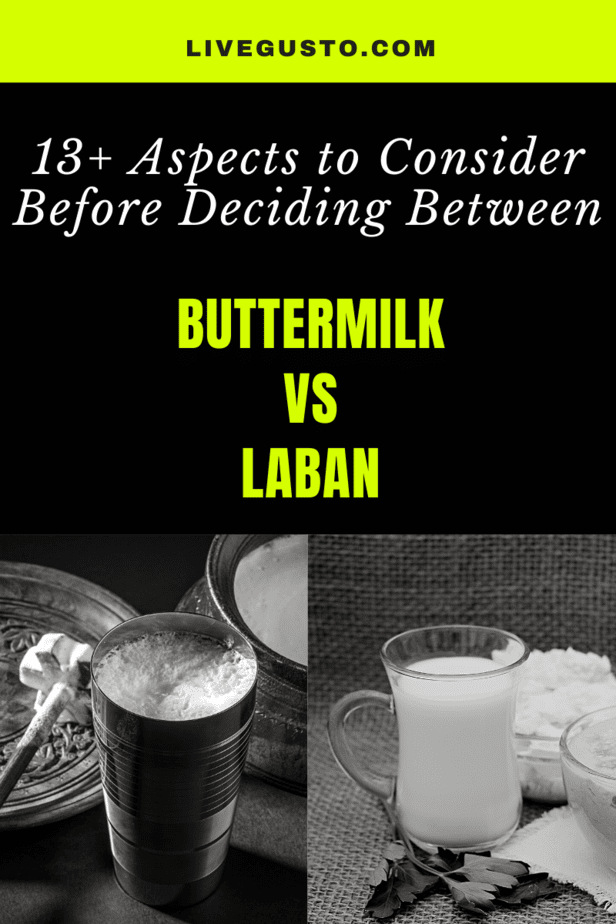 PEOPLE ALSO READ
| Buttermilk versus Lassi – Are these two drinks the same? | 
All You Need to Know About Buttermilk Versus Laban
Let us begin by comparing buttermilk and laban on various criteria in the table below –
BASE INGREDIENTS
Buttermilk

Milk & Citric Acid

Laban

Cow milk

TASTE
Buttermilk

Sour & tangy

Laban

Tangy & sweet

DAILY INTAKE
Buttermilk

1 cup

Laban

1 cup

CALORIES
Buttermilk

152*

Laban

144*

FAT CONTENT
Buttermilk

8 g*

Laban

7.9 g*

PROTEIN CONTENT
Buttermilk

8 g*

Laban

7 g*

CALCIUM CONTENT 
Buttermilk

281.8 mg*

Laban

288 mg*

RECOMMENDED TIME
Buttermilk

Morning

Laban

Noon

ENVIRONMENT IMPACT
Buttermilk

Negative

Laban

Negative

VEGAN FRIENDLINESS
Buttermilk

No

Laban

No

ORAL HEALTH OUTCOME
Buttermilk

Good

Laban

Good

TUMMY HEALTH OUTCOME
Buttermilk

Very good

Laban

Good

BODILY COOLING EFFECT 
Buttermilk

Very good

Laban

Very Good

BODY HYDRATION EFFECT 
Buttermilk

Very good

Laban

Very Good

ADDITIVES
Buttermilk

Spices & herbs

Laban

Spices, herbs & sugar
*Source: USDA; Quantity defined is 1 cup, made from whole milk
I hope that my table helped you in understanding the preliminary differences and similarities between buttermilk versus laban. If not, let me elaborate on each point for you to understand better –
Know the  Base Ingredients in Buttermilk & Laban Preparation
Buttermilk and Laban are both traditionally made from cow's milk. It is the process of preparation that is different. Buttermilk is made by curdling cow's milk with lemon or vinegar which contain citric acid.
Laban, on the other hand, is made by fermenting milk for a day and then straining it.  Also called lben, lban, and leben, Laban is widely consumed around Arabian and African countries like Morocco.
Buttermilk & Laban Have A Similar Yet Slightly Different Taste
Buttermilk tastes slightly sour and tangy because of the acidic content in it. Laban, on the other hand, has a sweet and tangy taste.
Both are fermented dairy drinks and taste better when spices and herbs like cumin, coriander and mint are added to them.
How Much of Buttermilk  & Laban Can Be Consumed in a Day?
For both buttermilk and laban, a cup is suggested for daily consumption. 
Taking more than a cup for both is also ok as many people consume up to 2 cups of these every day. However, restricting the consumption of both to 1 cup will prove ideal.
Keep Your Calories On Watch  With Buttermilk and Laban
Both buttermilk and laban are low in calories as I highlighted in the table above. The calorie content is almost similar for both these products.
While traditionally both Laban and Buttermilk are made from normal or whole milk, you can also make them from low-fat milk. The calorie content of the drinks made from low fat milk is almost two-thirds of the ones made with whole milk.
Buttermilk and Laban – Friends In Fitness
Buttermilk and Laban are well known for their low amount of fat as they are fermented and strained. However, buttermilk has a slightly higher fat content in comparison to laban.
Both Laban and Buttermilk have been a go-to option for low-fat dairy-based drinks by many people. Also, as I mentioned above if you are looking for an even lower fat content, you can make your own homemade drinks using low-fat milk or choose commercial low-fat versions of these drinks. 
Meet Your Protein Requirements With Buttermilk and Laban 
As you can see in the table above, the amount of protein in buttermilk and Laban is the same.
Therefore, regular intake of these will help you in meeting the daily protein requirements and contribute to building a stronger body.
Count On Buttermilk and Laban For Your Calcium Boost
Buttermilk and laban are foods rich in calcium since they are made using milk. However, laban is a slightly higher source of calcium compared to buttermilk.
Buttermilk with its huge list of benefits plays a prominent role in taking care of your calcium needs. In case you are looking for drinks with high calcium content you can opt for buttermilk.
Best Time To Consume Buttermilk & Laban 
The best time to consume buttermilk is in the morning because it makes digestion easier and boosts the human body with energy.
On the contrary, laban is best to be taken during the day as it makes you feel replenished. 
Environmental Impact of Buttermilk & Laban 
Both buttermilk and laban have a negative impact on the environment as they are obtained from cow's milk. 
The increase in consumption of these drinks leads to more grazing of lands which in turn means more cutting of trees and carbon emission.
Buttermilk or Laban – Which Is Vegan Friendly?
Buttermilk and Laban are dairy products. They are not vegan friendly as they are made from an animal source which in this case is cow's milk. 
Therefore, if you are a vegan, both these drinks are not suitable for your consumption.
Opt For Buttermilk or Laban For Good Oral Health
Buttermilk and Laban contribute to good oral health as they are excellent sources of calcium.
They help in keeping your teeth strong. This in turn helps in maintaining great oral health. 
Buttermilk & Laban for a Healthy Tummy
Buttermilk is an excellent drink to maintain good gut health. Most people add it to their diet for easy digestion of foods.
Laban replenishes your gut with healthy bacteria and helps in building better washroom habits.
Buttermilk & Laban – Nature's Best Body Coolants
Buttermilk and laban have been widely used the most during the summer months by people. Reason being they are excellent body coolants. 
They act as great energy boosters as they are rich in vitamins and minerals that help in maintaining body temperature.
Hydrate With Buttermilk & Laban
Both buttermilk and laban are widely opted by people to keep them hydrated because of their high water content.
Regular consumption of buttermilk and laban keeps your skin healthy and prevents dehydration, especially during summers.
Nourishing Additives That Complement Buttermilk  & Laban
Buttermilk and laban have been consumed by people across different continents. So there are a lot of ingredients that can be added to enhance their taste. 
Spices like cumin, pepper and herbs like mint, coriander, parsley and ginger are added to buttermilk and laban. Sweeteners like honey and sugar are also added if you have a sweet tooth.
Buttermilk and laban are a potpourri of many health benefits. So in case you are thinking, Is buttermilk and laban milk the same?  It is not. While they have so many similarities, there are also significant differences between the two.
Thank you for reading my blog till the end. I hope it helped you to understand the benefits of buttermilk versus laban.
Looking forward to more questions from your side in the comments section below.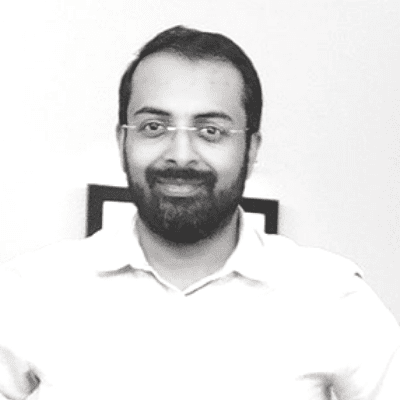 Hi! I'm Integrated Nutrition Coach Rohit Panwar. I hold twin Certifications from IIN, New York & SAFM, Massachusetts. I am a passionate vocalist of holistic lifestyle and have fully committed the past several years to educate & empower people towards their wellbeing. Despite a successful yet hectic corporate stint of 21+ years, I have prioritised nutriment in my life. I truly hope my personal journey from illness to wellness helps everybody reading this forge their own path.