With the increased availability of cheeses from around the world, the choice has also become difficult. One such difficult choice is mozzarella vs roquefort cheese.
Mozzarella and roquefort are some of the most well known varieties of cheese which also happen to be very nutritious. Let's find out which one would be a better choice for you.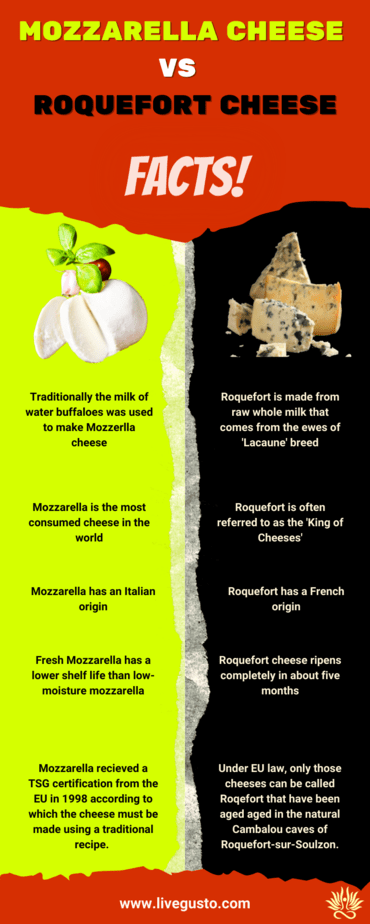 PEOPLE ALSO READ
| Mozzarella Vs Manchego– Which Cheese is Better? | 
Mozzarella Vs Roquefort Cheese: Nutritional Differences & Similarities
Before we can discuss mozzarella vs roquefort cheese which is better, let us see what attributes we will use to compare them – 
BASE INGREDIENT
Mozzarella 

Cow/ Water Buffalo Milk

Roquefort

Sheep Milk

TYPE
Mozzarella

Semi- Soft 

Roquefort

Semi – hard

TASTE

Mozzarella

 

Mild & Milky

Roquefort

Tangy & Salty

AGED

Mozzarella

 

No

Roquefort

Yes

CALORIE CONTENT

Mozzarella

 

85*

Roquefort

105*

CARB CONTENT

Mozzarella

 

0.6 g*

Roquefort

0.2 g*

FAT CONTENT

Mozzarella

 

6 g*

Roquefort

9 g*

PROTEIN CONTENT

Mozzarella

 

6 g*

Roquefort

6 g*

CALCIUM CONTENT

Mozzarella

 

143 mg*

Roquefort

150 mg*

SODIUM CONTENT

Mozzarella

 

178 mg*

Roquefort

513 mg*

VITAMIN PROFILE
Mozzarella

Very Good 

Roquefort

Very Good

ORAL & BONE HEALTH OUTCOME

Mozzarella

 

Very Good

Roquefort

Very Good

TUMMY HEALTH OUTCOME

Mozzarella

 

Very Good

Roquefort

Very Good

VERSATILITY

Mozzarella

 

Very Good

Roquefort

Very Good

SHELF LIFE

Mozzarella

 

5 Days

Roquefort

1 Month
*Source: USDA; Quantity defined is 1 ounce (28.4g)
Let us understand each of these attributes a little better- 
How Does Mozzarella's Method of Preparation Differ From that of Roquefort Cheese?
Mozzarella is made using cow milk or the milk of water buffaloes. Rennet and cheese culture is added to milk and once the curd is formed, the whey is drained. The curd is then heated in whey and stretched out to obtain mozzarella. 
Roquefort cheese is made using sheep milk. To heated milk, rennet and salt is added. The curd obtained is mixed with the spores of penicillium, a mold. This mixture is allowed to rest for some time and then transferred into round molds. The cheese is allowed to age  in specific caves while the mold grows giving it its characteristic features. 
What Type of Cheese are Mozzarella Vs Roquefort?
Mozzarella is a type of semi- soft and fresh cheese. 
Roquefort on the other hand, belongs to the category of blue cheeses and is of the semi–hard category.
Differences in Colour, Taste & Texture of Mozzarella and Roquefort
Fresh mozzarella is white in coloyr and has a milky and mild taste. It is soft and spongy to touch. 
Roquefort cheese is white or pale yellow in colour and has the characteristic blue veiny structure because of the presence of mold. Taste wise, I would say it has a tangy and salty flavour. It has a crumbly and moist texture.
Which Cheese Requires Aging: Mozzarella or Roquefort?
Mozzarella, as I mentioned before, is a fresh cheese. You can consume the cheese within a few hours of its preparation.  
Roquefort cheese required aging. The time period needed for it to age can vary between three to nine months. 
Mozzarella or Roquefort: The Cheese Which is Lower in Calories?
Mozzarella and roquefort are both moderately high in calories. These calories are mostly a result of the fat content in them. 
However, in comparison to mozzarella, roquefort may have higher calories since it is made from sheep milk which is higher in calories. 
Better Choice if You Wish to Consume Lower Carbs – Mozzarella or Roquefort?
Carbohydrates are basically sugar molecules that are broken down by the body for energy. Many people who plan to lose weight follow a low carb diet. 
Most types of cheese are low in carbs and therefore make for a good choice in low carb diets. Since sheep milk has lower sugar levels than cow milk, roquefort cheese has lower carbs than mozzarella. 
Which Has Lower Fats: Mozzarella Cheese Or Roquefort?
Mozzarella and roquefort are high in fats which give them their creamy and buttery flavour. 
Roquefort has a higher fat content when compared to mozzarella since it is made using sheep milk. 
What to Choose For More Proteins – Mozzarella or Roquefort?
Dairy products like cheese are very high in protein since they have a more concentrated quantity of milk proteins. 
When we compare mozzarella and roquefort, we observe that both have pretty similar amounts of protein in them.  
Mozzarella or Roquefort: The One With More Calcium?
All dairy products are also rich sources of calcium. Therefore mozzarella and roquefort are both high in calcium levels. 
Here, roquefort has slightly more calcium than mozzarella because in comparison to cow's milk, sheep milk has more calcium content.
Mozzarella or Roquefort Cheese: What to Pick for Lower Sodium Intake?
One thing that separates fresh cheeses from aged ones is that the aged cheese is higher in sodium levels. Thus roquefort has a higher level in comparison to mozzarella.
In most cases, the aged cheeses are dipped in brine to prevent spoilage and help in preservation of the cheese. The older the cheese, the more is the sodium content. 
Which Has More Vitamins & Minerals – Mozzarella or Roquefort? 
Apart from the calcium and proteins, cheeses are rich in many vitamins including vitamin B, A, D, E and K along with other essential minerals. 
Roquefort has a higher amount of B vitamins and potassium when compared to mozzarella cheese. 
Mozzarella Or Roquefort: Which One's Good For Your Bones & Teeth?
Mozzarella and manchego are both good bone and teeth friendly minerals like calcium and phosphorus. 
You can include these in your diet to enjoy the benefits. However, make sure you are not going over and above. About one ounce of mozzarella and roquefort cheese is good enough for a day. 
Mozzarella or Roquefort Cheese – Which Cheese Can Be Digested More Easily? 
Mozzarella is easy for digestion as compared to many other types of cheese. This is because it is rich in probiotics or good bacteria. Probiotics are associated with improving digestive health. 
Roquefort cheese is a blue cheese and is easy to digest as well. The enzymes present in the cheese break down the proteins and fats making it easier to digest. 
How is Mozzarella Vs Roquefort Cheese Used?
Mozzarella is used in a number of ways and across many cuisines. It can be used fresh in salads or cooked and melted over dishes including pizzas and pastas.
Roquefort cheese can be had as such  or can be made into a dressing. It also can be cooked in foods such as pizzas, baked tarts, and quesadillas. This too is thus very versatile in its usage.
What Can Be Stored for a Longer Time – Mozzarella or Roquefort Cheese?
Fresh mozzarella is sold in balls dipped in brine and its shelf life is thus only about a week.. Mozzarella's low-moisture variations are available in sealed packs can be used for a longer time comparatively. 
Roquefort cheese can be stored in a wrap followed by a foil. It can stay fresh for up to 4 weeks in the refrigerator.  
We can thus conclude that both mozzarella and roquefort are excellent choices to be included in your diet. Both are nutritious but your final choice would depend on your needs and choices. 
I hope you are enjoying the world of cheeses with me. In case you'd like me to compare some other cheeses, feel free to drop your suggestions in the comment section below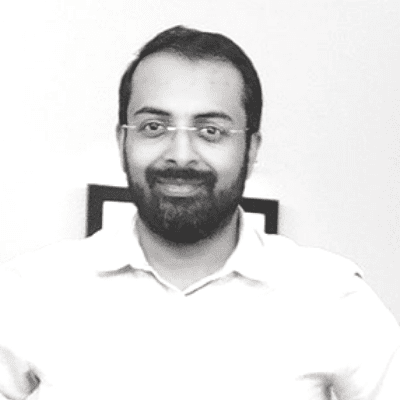 Hi! I'm Integrated Nutrition Coach Rohit Panwar. I hold twin Certifications from IIN, New York & SAFM, Massachusetts. I am a passionate vocalist of holistic lifestyle and have fully committed the past several years to educate & empower people towards their wellbeing. Despite a successful yet hectic corporate stint of 21+ years, I have prioritised nutriment in my life. I truly hope my personal journey from illness to wellness helps everybody reading this forge their own path.