The dairy isle in supermarkets is full of dairy products that are labelled "healthy" which makes it difficult to choose one. One such difficult choice is between quark vs yogurt.  
As a nutritionist, let me help you find the difference between quark and yogurt. Based on this, you can make an informed choice for yourself.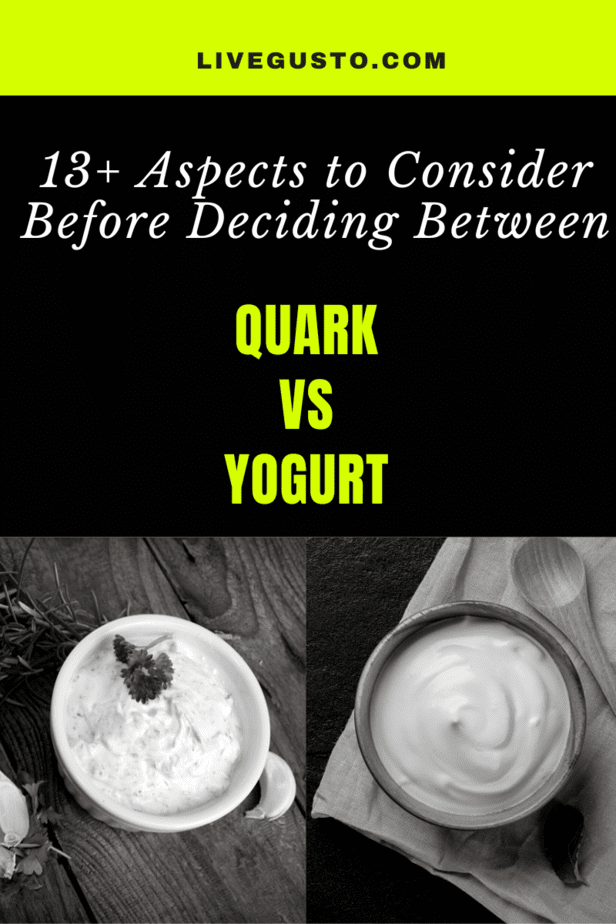 PEOPLE ALSO READ
| Skyr Versus Yogurt – Which One's Better? | 
Quark Vs Yogurt: Nutritional Differences 
Let us begin the comparison by taking a quick look at the difference between quark and yogurt – 
BASE INGREDIENTS
Quark

Milk & Lactic Acid

Yogurt

Milk & Starter Culture

TASTE
Quark

Mild & Sour

Yogurt

Sweet & Sour

DAILY INTAKE
Yogurt

50-100 g

Yogurt

200-250 g

CALORIES
Quark

73*

Yogurt

70*

CARBOHYDRATES
Quark

2 g*

Yogurt

5 g*

FAT CONTENT
Quark

1.5 g*

Yogurt

3.5 g*

PROTEIN CONTENT
Quark

11 g*

Yogurt

 3.5 g*

CALCIUM CONTENT
Quark

100 mg*

Yogurt

132 mg*

RECOMMENDED TIME
Quark

Morning or Noon

Yogurt

Morning or Noon

ENVIRONMENTAL IMPACT
Quark

Negative

Yogurt

Negative

VEGAN FRIENDLINESS
Quark

No

Yogurt

No

ORAL HEALTH OUTCOME
Quark

Very Good

Yogurt

Very Good

TUMMY HEALTH OUTCOME
Quark

Very good

Yogurt

Very good

BODY COOLING EFFECT
Quark

Good

Yogurt

Very Good

ADDITIVES
Quark

Fruits & Dry Fruits 

Yogurt

Fruits & Honey 
*Source: USDA; Quantity defined is 100g, made using whole milk. 
Now that we have clarity on the nutritional differences of quark and yogurt, let us get to know these better – 
How is Quark Different from Yogurt When It Comes to Key Constituents?
Quark is a type of cheese that is made by mixing cow milk with lactic acid (sometimes, buttermilk is also added in place of lactic acid). Once the mixture is set, it is heated to separate whey. It is then strained to obtain quark.
Yogurt is made by  adding yogurt culture to warm milk. The yogurt culture is easily available in the market and is a combination of good bacteria. 
Quark Vs Yogurt: Difference in Taste and Texture?
Yogurt has a texture in between Greek yogurt and cottage cheese. It is soft and spreadable. Taste-wise, it is mild and slightly sour because of the fermentation.
Yogurt has a thick and creamy consistency. It has a distinct sour taste which is a result of the fermentation process. 
How Much Quark or Yogurt Can Be Had In One Day?
Quark is popular amongst fitness enthusiasts for the tremendous health benefits it offers. However, to get the most of it, you must consume it in moderation. Ideally you can consume anywhere between 50 to 100 grams of quark in a day. 
Yogurt is also a nutritionally rich dairy product, but it must be consumed in limited quantities. Ideally you can consume up to 1 cup of yogurt everyday. 
Better Choice for the Calorie- Conscious: Quark or Yogurt?
If we compare equal quantities of quark and yogurt, we find that they have almost the same amount of calories.  
However, you must remember that since the serving size or quantity of quark you consume is less, the calorie intake will be less than yogurt. 
Quark or Yogurt, For a Low- Carb Diet?
Traditionally both yogurt and quark are made using whole milk which makes dairy products moderately high in carbohydrates. 
As compared to Yogurt, quark is much lower in carbs. This makes it a better choice if you are watching your carb intake. 
 Is Quark Healthier than Yogurt Because of Its Fat Content?
One of the reasons why quark is loved so much by the majority of the people is because of its low fat content. Even when quark is made using whole milk, it is very low in fat content.
The amount of fat in yogurt depends on the kind of milk used in its preparation. Whole milk yogurt is usually higher in fats as compared to the ones made using low fat milk or skimmed milk. In comparison to yogurt, quark is much lower in fats.
Which Has a Higher Protein Content: Quark or Yogurt?
Since both quark and yogurt are dairy products, they are high in protein content. In comparison to yogurt, quark is much higher in protein.
In fact, quark has higher protein content than Greek yogurt owing to its thicker consistency. For producing equal quantities of quark and yogurt, more milk is required. 
Quark or Yogurt: Better Option for Calcium?
Another important nutrient that dairy products are rich in is calcium. Both yogurt and quark are thus rich in calcium.
This calcium plays a pivotal role in formation of strong bones, teeth and maintaining muscle functions. 
What is the Best Time to Consume Quark Vs Yogurt?
Quark is nutritionally very rich and therefore, the best time to consume it is either in the morning or in the afternoon. This gives your body enough time to absorb all its nutrients. 
Same is the case with yogurt. It is best consumed either in the morning or in the afternoon. 
Quark or Yogurt: Which One's Vegan-Friendly?
Yogurt and quark, both are usually made using cow's milk. Therefore, both these products, in their traditional form, are not suitable for vegans. However, a lot of plant based variations of yogurt and quark are increasingly becoming available.
An important thing to remember when choosing a vegan version is that they are not as nutritious as their dairy counterparts unless fortified. So, make sure you check the nutritional labels before purchasing the vegan versions.  
Quark Vs Yogurt: Their Impact on the Environment?
Dairy-based products like quark and yogurt are not good for the planet. This is because the raising cattle for milk leads to higher emission of greenhouse gasses, deforestation and soil erosion among other negative consequences. 
So, if you are environmentally conscious, these are not the products you should be consuming. 
What is Better for Oral Health: Quark Cheese or Yogurt?
Quark and yogurt are both made using milk, this makes them very rich in minerals such as phosphorus and calcium. Both these minerals are good for your oral health. 
Apart from this, yogurt and quark are also rich in probiotics or good bacteria. These further enhance the overall oral health. 
Quark or Yogurt: Which One's Better for Your Tummy?
Quark is rich in good kind of bacteria also sometimes referred to as probiotics. These help to keep your gut healthy. 
Yogurt  too is rich in probiotics. This makes it good for digestion. Yogurt is also low in lactose, a component found in milk, which many people have difficulty digesting. 
Which one Has a Bodily Cooling Effect: Quark or Yogurt 
Yogurt is better for bodily cooling and hydration because of the water content. Therefore, it is considered to be one of the best summer foods. It also contains minerals like calcium, potassium which help in maintaining the water level in the body. 
Quark has relatively very less water content but it does contain electrolytes that can help with body hydration. 
Which One's More Versatile : Quark or Yogurt?
Quark is as delicious as it is versatile. It goes very well with both sweet and salty flavours. You can eat it as such by topping it with dry fruits or granola. You can also use it as a spread or use it as a dressing. The options are endless. 
Yogurt also has a number of uses and just like quark , can be used in a variety of sweet and salty preparations. Use it to make a smoothie with some fruits, eat it like a snack with chopped fruits or use it in your recipes. 
So, both yogurt and quark are quite nutritious. However, in comparison to Yogurt, quark is more nutritionally dense. You can include one or both in your diet, depending on your needs.
I hope I was able to clearly underline the difference between quark and yogurt. If you have any follow up questions, I will be happy to answer.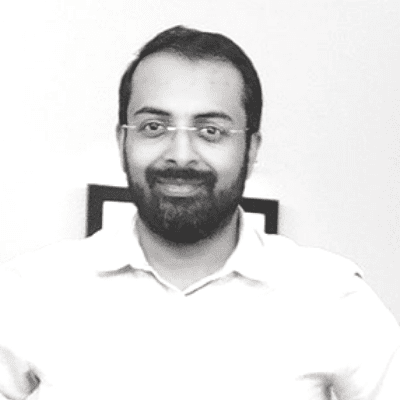 Hi! I'm Integrated Nutrition Coach Rohit Panwar. I hold twin Certifications from IIN, New York & SAFM, Massachusetts. I am a passionate vocalist of holistic lifestyle and have fully committed the past several years to educate & empower people towards their wellbeing. Despite a successful yet hectic corporate stint of 21+ years, I have prioritised nutriment in my life. I truly hope my personal journey from illness to wellness helps everybody reading this forge their own path.